AIA Central Oklahoma's Architecture Awards program is held every other year and celebrates the best in architecture and urban design.  As part of this celebration we invite you to vote for your favorite project in each category.  Review the entries and vote for your favorite projects HERE.   (Or see the link at the bottom of the page).
Voting will remain open until 11:59 p.m. on Friday, November 4th.
Adaptive Reuse
Social Capital

|

Allford Hall Monaghan Morris

 

Photography by: Eric Schmid
Located at the intersection of SW 5th and S Hudson Avenue, this former transmission shop occupies a prominent corner within Oklahoma City's Core to Shore strategic framework. Its existing utilitarian structure, which has unobstructed views to Scissortail Park, is transformed into a community-focused craft beer hall. Dilapidated elements including the existing roof structure are removed while key elements are retained and refurbished to retain some of the historic character of a district identified for rapid change.
The existing building is clearly organized with a new courtyard serving as the entrance to a multi-level complex offering maximum flexibility and activity along Hudson Avenue. The massing mediates in scale between the current structure and larger-scale developments proposed nearby, while a variety of spaces and seating types create a vibrant and engaging environment. The main bar is the interior focus while micro-kitchens create an active, family-friendly frontage easily accessible from the park. Outdoor amenities are provided by a courtyard, an exterior patio, and a roof terrace whose mirrored canopy soffit reflects the rooftop scene while capitalizing on views towards the park. Generous landscaping at the ground and upper levels ties inside to outside and unites the development with the park.
CityCare Night Shelter

|

ADG Blatt Architects

 
Photography by Emma Anderson
The City Care Night Shelter is Oklahoma City's first low-barrier shelter for the unhoused. It offers men, women, family and pets a safe place to take refuge. The original structure was an unused warehouse. City Care is taking a housing first approach to help the unhoused find stability. This impact can help marginalized communities find support immediately. Providing housing, even if temporary, can help those get out of weather and connect them to resources to aid their situation. Low-barrier shelters are designed for harm-reduction with the goal of quickly transitioning patrons to more stable environments. The Night Shelter was designed with families in mind, providing family rooms centered around a living, study, dining and kitchen area specifically for familial use. The main dormitories were designed in such a way to house as many men and women as humanely possible. Transoms were use in the dorms to provide light and warmth to the large rooms. A large laundry room was outfitted with industrial sized washers and dryers to service guests while the kitchen and dining rooms provide a sense of community. Even the guest storage area was thoughtfully designed to be able to house shopping-cart sized loads overnight.
Santa Fe South Schools Hills Elementary

|

Beck Design

 
Photography by Simon Hurst Photography
While the majority of the existing Oklahoma City shopping mall remained empty, Santa Fe South Charter Schools saw the vast space as a unique opportunity. As a result of the cost-effective and timely renovation of the space, student enrollment continues to increase yearly.
Ultimately the project found a home within a former department store, an area of approximately 68,200 square feet. The school system had a vision of their new school being welcoming, safe, and maintainable for staff. Large collaborative gathering areas were also important to the school. Flexible and moveable furniture was selected to allow easy reconfiguration based on daily needs. The central focal point of the space serves as a multi-purpose room that includes a library, cafeteria, and physical education area. Working within the existing large volumes, the acoustical solutions for gathering spaces were heavily addressed. The use of colored tectum panels provided the sound absorption needed along with encouraging an energetic learning environment. This project marks the third successful adaptive re-use of the retail mall for use by the Santa Fe South Schools, all completed by Beck Design within the last 6 years.
Harvey Bakery & Kitchen

|

Troy D. Rhodes & Company, Inc. 

Photography by Lindsey Torres

Photography by Troy Rhodes
The Harvey Bakery & Kitchen is conceived from the idea of creating a third place for gathering in groups or finding a quiet oasis outside of home and work. A warm and welcoming space with the aroma of fresh baked goods, a warm cup of coffee, and the appeal of a savory lunch draws in the crowd on a crisp Fall morning. Sunlight pours into the oversized showroom windows. Who would have thought in 1946 when this building was originally built as an automobile dealership it might someday be transformed into a boutique pastry shop? After spending decades as an office space, new life has been breathed into this iconic building in Mid-Town Oklahoma City. Each space within this brightly lit bakery has been thoughtfully designed as a room within a house. The kitchen is on full display validating the freshly baked goods. The living room is a cozy space in the corner where you can relax and grab a book to read. The mezzanine library is tucked upstairs for a quiet respite from the adjacent busy street. The dining room has a variety of seating options while the patio invites you outside. Welcome to the Harvey Bakery & Kitchen.
First National Center

|

ADG | Blatt Architects

Photography by Tanveer Badal Photography

Photography by Emma Anderson
The First National Center is a 33-story former bank headquarters completed in 1931. The recent conversion to retail center, hotel, apartments and parking garage restored one of downtown Oklahoma City's Art Deco jewels and has had a positive impact on the local economy since completion in spring 2022, bringing in visitors and new residents alike. Many of the building's historic elements were retained and restored limiting the amount of materials that were sent to the landfill. While the first cost of completely replacing all MEP, fire suppression, non-historic interior finishes (including abatement), and the refurbishment of historic items was very high, the long-term preservation of the historic building for future generations and preventing the building from potentially being torn down all together because of the lack of use and state of disrepair it was in, has a long-term value that will give back to the city for years to come. By breathing new life back into the First National Center, the aesthetic environment has been enriched with both history and beauty.
Commercial Architecture
Frida

|

Fitzsimmons Architects


Photography by Justin Miers Photography
Named and inspired by the iconoclastic Mexican artist Frida Kahlo, Frida Southwest is a 5,000-sf restaurant featuring sunlit dining spaces connected to sheltered outdoor patios, integrated with a separate craft-cocktail bar and patio, known as The Daley. The design reverberates Frida's life, whose work depicts her dreams and her pain within the context of Mexican culture and traditions.
As a gateway to Oklahoma City's bohemian Paseo District, Frida's ubiety activates this once silent corner, addressing the curvilinear street with complementary arcade walls, organically transitioning from Walker Avenue to Paseo.  The facade harmonizes with the historic Spanish-style district, incorporating major elements of the Spanish Revival style by way of the featured stucco arcade creating the entry and outdoor dining spaces.  The arcade is broken by a rail that penetrates the facade, symbolically echoing Frida's broken back expressed in her life and paintings.  Patinaed weathering steel walls and trellis balance the open arcade, highlighting the earthy and bright orange/brown rust undertones. Large clear windows illuminate the space with blue-colored glass, limited to artistic accents within the bar areas. Wood details provide warmth to the dining spaces with aesthetic accent tiles enhancing the energy within the space.
Cleveland County Wellness Square

|

Allford Hall Monaghan Morris 

   
Photography by Eric Schmid
Cleveland County's 'Wellness Square' is a mixed-use civic project in the heart of downtown Norman that will include a new home for the Norman Farmer's Market. Within biking or walking distance to a variety of mixed-density residential neighborhoods, Wellness Square is well-positioned to serve a broad spectrum of the public as well as to help solidify James Garner Avenue as an important pedestrian and vehicular link between Main Street. and Campus Corner. The project is comprised of two buildings united by a central covered 'hub' that provides a common entry point and flexible outdoor space. To the south, a two-story admin building will offer a range of services such as a NRHS clinic, an event space, teaching kitchen, meeting space, and two multi-purpose classrooms used for a wide variety of educational and community-based programming. On the north end of the site, a single-story flexible hall will house the Farmers Market. A series of glass garage doors will allow the hall to function as an open-air pavilion thereby expanding the market footprint into the public realm with high visibility along James Garner.
Fort Smith VA Outpatient Center

|

HSEarchitects


Photography by Joseph Mills Photography
The Veteran's Administration Community Clinic in Fort Smith, Arkansas was built to serve the physical and mental health needs of Veteran's living in Fort Smith, Arkansas and surrounding areas. The Fort Smith VA Outpatient Clinic is situated on a 5.4-acre site directly north of Fort Smith Regional Airport and southeast of Interstate 540.The clinic houses multiple health service disciplines under one roof. At approximately 45,000 square feet, the outpatient clinic includes primary care, audiology, ophthalmology, behavioral health, radiology, and pathology lab services for United States veterans.
In addition to health services inherent to medical facilities, the Fort Smith VA Outpatient Clinic promotes mental well-being with the use of natural materials and tones to create a calming environment in contrast to many established medical facilities. In combination with their aesthetic qualities, many of these materials were selected for their environmental impact. Impacts include physical properties such as reducing solar heat gain to selecting regionally produced materials to reduce carbon impacts associated with material transportation. Material life cycle was considered along with measuring material waste and diverting materials from landfills whenever possible as part of Green Building Initiative guidelines
UCO North Hamilton Field House

|

Studio Architecture 


Photography by Simon Hurst Photography
The Hamilton Fieldhouse Annex provides a much-needed upgrade to UCO's existing sixty-year-old facility.  Having recently relocated the football locker room to another building, this space was renovated into fresh, top-of-the-line locker rooms for women's basketball, volleyball, soccer, and tennis teams.  Over 15,000 square feet of new space was added, providing practice basketball and volleyball courts and one of the largest wrestling venues in the state.  The wrestling room contains four wrestling mats in a 96-foot-wide column-free space flooded with natural light from continuous clerestory windows.  The practice courts contain six retractable basketball goals and three retractable volleyball nets.  The main entrance is accentuated by a yellow perforated aluminum architectural screen wall that provides an iconic BRONCHOS sign while filtering light into the lobby.
RIVERSPORT Rapids

|

Rand Elliott Architects


Photography by Scott McDonald, Gray City Studios
The architectural concept for the structures at RIVERSPORT Rapids are consistent with the existing Boathouse District aesthetic, while still maintaining a uniqueness related to their purpose and function.  Modern forms with an angular vocabulary create an iconic series of structures in this highly visible urban context. The forms and materials hint at the duality of the transparency and reflectivity of the adjacent water and its swift movement. The expression and position of the structures create a distinctive experience that seamlessly facilitates the flow of users to the many functional areas of the site.
The main building serves functions critical to the success of the venue and includes administrative offices, locker rooms and spaces for visitors to shop, eat, survey the site and purchase tickets. The location maximizes views of the course and surrounding landscape. The raft storage building is an enclosed structure east and adjacent to the main building. A 205' long sliver structure, the wing roof provides a covered outdoor footprint for orientation and safety instruction. At the far east portion of the site, the Kayak Building is both a landmark and a symbol. It is used to store kayaks, as well as a staging location for professional events.
Large Commercial Architecture
Oklahoma State Capitol Interior Restoration

|

FSB Architects + Engineers

   
Photography Simon Hurst Photography
Originally completed in 1917, this interior restoration provided much needed mechanical system upgrades, space reallocation, structural repairs and cosmetic improvements to the decaying structure. FSB's ability to work hand-in-hand with multiple user groups was a huge asset in this multi-phase, extremely intricate project. Referencing old drawings, along with documents from previous partial renovations, our team conducted a thorough on-site review of the building's engineering systems, which were found to be severely inadequate and outdated. In many instances, the original plumbing and electrical wiring were still in place, both dangerously decayed, while the HVAC, fire protection and additional systems also needed to be replaced and brought into compliance with modern safety and performance standards. The most significant change to the structure was the transformation of the lower level into the primary public entrance, where visitors can now step into an expanded and completely redesigned Capitol museum. Repairs were made with minimal disruption for the state employees and elected officials who work inside. By creating a plan which did not require relocating employees to other buildings, FSB saved the state approximately $7 million in leasing costs.
Boulevard

|

Fitzsimmons Architects

 
Photography by Joseph Mills Photography
An exercise in detailing and a play on shadows, this building envelope features several unique exaggerations of the usual suspects.  For example, steel arcade frame elements provide a consistent size & backdrop for individual tenant signage.  Custom storefront mullion caps provide an extruded frame accenting the second-floor punched openings.
Designed to maximize flexibility in the long-term, the building layout creates a system of modules that can grow or shrink to be a standalone small space, or a space made of 2, 3, 4, or even 5 modules – depending on the needs of the tenant. Doors can be placed anywhere along the first-floor storefront. At maximum capacity, the building can accommodate up to 19 tenants.
The building is a reaction to its context. This site provided the opportunity for infill. Locating parking in the back of the building allows the façade to address the urban environment while contributing density to the area.  The arcade and breezeways create a protected, human-scale, pedestrian-friendly urban experience above and beyond the typical sidewalk, making this project a vibrant link between surrounding businesses.
Wheeler Office

|

Allford Hall Monaghan Morris

 
Photography by Eric Schmid
The Wheeler District, once an abandoned airport, is transformed into an ambitious new urbanist development. The first phases of the development focused on driving residents to the neighborhood, by providing dense single family residential units. Wheeler Office is the first mixed-use building for the development, designed to be a three-story office and retail building which signals larger and more dense projects to come.
The history of the original site that once housed a single-story barrel-vaulted airport hangar, is echoed within the building's barrel-shaped roof and its 'dancing windows' that are a playful reinterpretation of the checkerboard airport flag. Whilst paying homage to this history, the project also sympathizes with the smaller granular nature of the development to the west by dropping the perceived plate height. This allowed the building to feel more like a two-story building with an occupied attic. The third tenant then gains volumetric luxury which is not commonly found in contemporary office buildings.
Wheeler Office provides 9,000sqft of commercial space comprising of a coffee shop, restaurant, ground floor retail space and a further 18,000sqft of office space on the second and third floors. The modern warehouse-style of the building allows for future flexibility and multiple uses.
Classen16

|

Allford Hall Monaghan Morris


Photography Eric Schmid
Classen16 is a new-build mixed-use apartment and commercial building that sits on the cusp of a heavily used arterial road and the vibrant, walkable Plaza District of Oklahoma City. Acting as a mediator between these contrasting contexts the building adopts a domestic scale that steps in discrete blocks and rises to address the business corridor of Classen Boulevard. The form hugs the street edge, concealing surface parking and residents' amenity areas from the adjacent roads. The streetscape is enlivened with a generous planted buffer and raised stoops to all the ground floor homes. The site was formerly the home of a dilapidated well known seafood restaurant and parking lot. Hinting at the history of the site, the building is clad with a shimmering, fish scale-like aluminum shake that reacts to the changing quality of light throughout the day.
First Americans Museum

|

Johnson Fain and ADG | Blatt Architects

Photography by Mel Willis

Photography Courtesy First Americans Museum
First Americans Museum celebrates the 39 Native Nations of Oklahoma. Located on a reclaimed oil field site at the intersection of I-35 and I-40, the project commenced in the late 90s. The museum contains exhibit spaces, multi-purpose theaters, cafe, restaurant, classrooms, event spaces and administration offices. The design of the 175,000-square-foot building showcases themes consistent for all tribes. For this reason the building materials are simple: glass, steel, wood and concrete organized in a series of radial geometries speaking to the spiritual significance of the unending circular forms from which life originates, continues and begins anew. The site generates from two primary circular forms: "earthen" and "building." Oklahoma tribes have a rich history of earthen architecture and mound building, which inspired the FAM Mound. The FAM mound acts as a solar calendar celebrating the setting sun of the winter solstice through the concrete west passage and the setting of the sun of the summer solstice at the mound peak. At the intersection of the "earthen" and "building" forms is The Hall of The People, a symbolic place of reconciliation between all Peoples.
First National Center

|

ADG Blatt Architects

Photography by Tanveer Badal Photography

Photography By Emma Anderson
The First National Center is a 33-story former bank headquarters completed in 1931. The recent conversion to retail center, hotel and apartments restored one of downtown Oklahoma City's Art Deco jewels and has had a positive impact on the local economy since completion in spring 2022, bringing in visitors and new residents alike. The First, a new Marriott Autograph hotel offers 146 rooms on eight floors and The Residences offers 192 apartments on 23 stories. The two office buildings on the east have been converted into a 14-level parking garage. As a beloved building for nearly 100 years, several historic elements were restored and integrated back into the building. Notably, the vault has been transformed into a popular basement speakeasy, gilded ceiling decoration was refurbished and elevator doors were recreated to match the original inlays. By breathing new life back into the First National Center, the aesthetic environment has been enriched with both history and beauty. Residents enjoy the modern benefits of living downtown while experiencing the elegance of an Art Deco building. With amenities like a pool, gym, salon, dog park, bars, resident lounges, restaurants and entertainment in the building, residents truly enjoy a full-service lifestyle within one building.
Belle Isle Library

|

ADG | Blatt Architects

Photography by Mel Willis

Photography by Nolan Wilds
Originally built in the 1960s, Belle Isle Library has served the neighborhood for over 60 years. The iconic building has become home to many in the community, not only as a place to learn and read, but also as a place where patrons have had a place to connect with others. The improved Belle Isle Library is equipped with more user-friendly spaces, conference rooms, a maker-space, semi-private study rooms and so much more to help support the evolving community. And it's larger, too, expanded by 14,000 square feet for a new total area of 32,000 square feet. As the greater Oklahoma City metropolitan area has gained more than 100, 000 new residents since the last census, the largest increase in the local population since the 1950s, the need to expand the library's capacity and resources to better provide for those in the community grew as well. With limited access to books, periodicals, computers, and other forms of information on the raise, libraries can help the changing dynamic between individuals and educational sources.
OVO Athletic Centre

|

Guernsey

Photography by Mel Willis

Photography by Philip Castleton
The Raptors' 68,000-square-foot training facility was a rapid-fire amalgamation of creative vision, innovative solutions, and state-of-the-art technology. Our project priority was to design an intuitive, impactful facility tailored to give the players and staff an identity while addressing Toronto's urban environmental pressures: air quality, climate change and energy efficiency, water quality and efficiency, ecology and solid waste. From lofty training and lounge spaces to a high-tech digital draft center with electronic interface of every college and NBA player, the OVO Athletic Centre is a first-class sports facility. The second level offers space for the athletes to unwind and socialize, including a players' dining area overlooking the main court area with a full commercial kitchen, a green roof, an outdoor grill and lounge area with views of Lake Ontario. Standout features include copious diffused natural lighting, nutrition station, zero entry hydrotherapy, massage and cryo chamber stations, and even a dedicated barber shop.
Hewlett Packard Enterprise Global Headquarters

|

  REES and Pickard Chilton


Photography by Hewlett Packard Enterprise
HPE's Global Headquarters redefines the modern workplace and enables HPE's hybrid work model; 80% of team members work primarily remotely but are encouraged to utilize the office for collaboration. Our team worked with HPE to design a 446,000-square-foot facility packed with world-class amenities to foster innovation, entice employees to the office and improve productivity.
To accommodate the headquarters' 2,400 employees, designers curated niches devoted to various work styles including focused, small group and departmental teamwork. Employees can opt to focus in one of 72 soundproof pods, reserve one of 600 workstations or conduct training sessions in adaptable conference spaces. Additional components include a fitness center, health center, pharmacy, makerspace, Customer Innovation Center and an immersive theater. The built-in data center is a driving force behind HPE's breakthroughs. Warm earth tones contrasted against cold-rolled steel convey a "comfort-meets-industrial" style. Interactive technologies double as artwork, reinforcing HPE's status as a technology vanguard.
A centrally located, one-acre courtyard, landscaped with Texas-native vegetation, is a place for casual socializing and large employee gatherings. Floor-to-ceiling windows provide unobstructed views of the outdoors, filling work areas with natural light. Diversity and inclusion are prioritized via gender-neutral bathrooms, private mothers' rooms, wellness amenities and diverse meal options.
Neal Patterson Soccer Stadium

|

Studio Architecture 

   
Photography by Simon Hurst Photography
Conceived to pay homage to the great European futbol stadiums while responding to the existing campus architecture, this exciting new home for OSU Women's Soccer program aspires to be the top collegiate venue in the country.  Designed to optimize the fan experience, the stadium's grandstands seat 1,770 spectators while the suites and club level seat 200 more.  The student section seats an additional 540 and is placed behind the north goal, creating an optimate home-field advantage.
New state-of-the-art suites and press box are located high above the west grandstands for uninterrupted views of the playing field.  A new club house facility includes a health center with hydrotherapy tubs, team locker room, classroom/team center, coaching offices, and visiting team locker room.  Player/fan interactions are designed into several areas of the facility, including the Field Club which is situated between the players' locker room and the field.  The player benches are tucked into the spectator area and the grandstands extend down to the field creating a very intimate atmosphere.
O'Brate Baseball Stadium

|

Studio Architecture

 
Photography by Oklahoma State University
Studio Architecture was tasked with designing a state-of-the-art new home for one of the most tradition-rich programs in college baseball.  This stadium is unlike any other collegiate baseball facility in this country featuring a full wraparound concourse, glass batters eye, player development center, clubhouse, indoor training facility, and practice infield – all included in one connected complex.
Great emphasis was placed on the fan experience.  Up to 8,000 fans can enjoy unique amenities, like the "tailgating tents" on the concourse behind the outfield.  Students can enjoy supporting their team from the dedicated student section, complete with its own club.  Thirteen suites provide a luxurious view of the natural grass playing surface.  A 2,000 square foot video board allows for top-of-the-line graphics and video content to further enhance the game-day experience.  Player development is a key element of OSU's baseball program, and this facility supports that mission with multiple player amenities.  The player development center includes an indoor batting facility, a pitching lab, a tiered player classroom, and an artificial turf infield practice area.  A 26,000 square foot team clubhouse contains lockers for 45 players, a training room with hydrotherapy tubs, a hydration/nutrition station, and a sports medicine area.  This facility contains countless amenities that continue OSU's commitment to excellence and gives its student athletes the ability to compete at the highest level.
UCO Sports Performance Center

|

Studio Architecture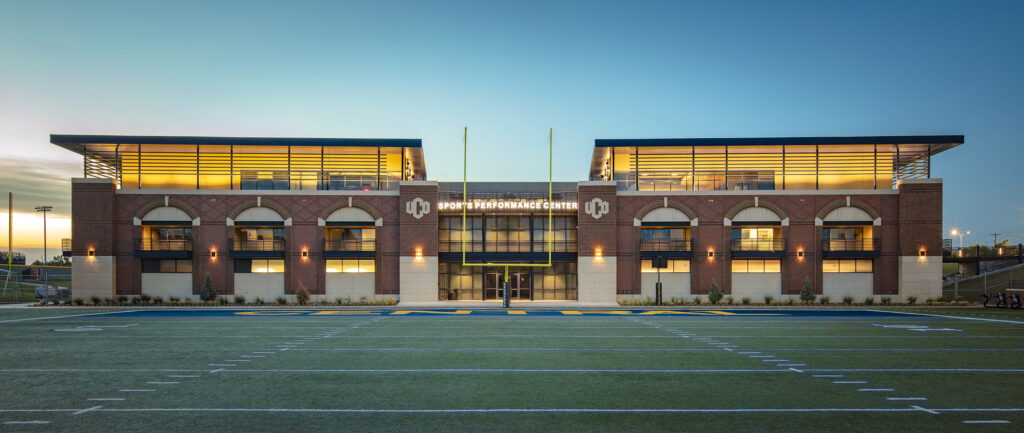 Photography by Simon Hurst Photography
As one of the fastest growing universities in Oklahoma, the University of Central Oklahoma was searching for a plan to help its athletic facilities keep pace with its burgeoning enrollment.  With its aging facilities, the athletic department found recruiting student athletes to be an increasing challenge and looked to Studio Architecture to generate a vision that would help propel UCO to the next level.
The solution is a new three-level facility that serves all of the University's athletes, coaches, trainers, and support staff.  Level One includes a weight room, therapy/rehabilitation spaces, and locker rooms for the football team and other athletes.  Level Two contains coaches' offices and meeting rooms.  Level Three contains an academic center, study rooms, tutoring spaces, an auditorium, and the Stampede Club – a lounge for athletes, alumni, and donors where UCO can showcase its prolific athletic history, as well as hold banquets and gatherings.  On this level, overlooking the football field, is a large rooftop terrace.  In the highly competitive world of collegiate athletics and recruiting, UCO wanted the new facility to have an impressive presence.  Large expanses of glass provide transparency between building activity and the playing field while maximizing natural daylight within the building.  Brick massing, arches, and detailing provide continuity with a recent press box addition and aesthetically tie the facility to the rest of campus.
Dolese Customer Services Center

|

Butzer Architects & Urbanism 


Photography by Timothy Hursley
The design of the Dolese Customer Services Center (DCSC) is inspired by aspects of the company's products and their manufacture, with the goal of creating a healthy workplace for employees and customers. A volumetric dialectic grounded in the chemistry of concrete offers "aggregate" office clusters and "binder" collaboration and circulation spaces. Office departments are carefully defined amidst a grid of 15" thin concrete columns, cast-in-place exterior wall planes, concrete bricks, and slabs of translucent stained white oak. Binder spaces facilitate chance encounters and movement alongside the multi-story atrium and "chute" stairs, and around strategically placed furniture clusters.
Typical quarry elements drive explorations of section and depth. The Fissure serves as the architectural datum, gathering visitors from east and west along the site's natural highpoint and under a linear skylight composition. Tightly scribed vertical walls of glazing extend internal views towards the sun and landscaped outdoors. Radiating faces of masonry heave and capture time and shadow. At the center of the structure is the Gem, housing mission-critical logistics, meeting, training, and socialization functions. The Gem takes cues from the myriad sought-after stones quarried by Dolese Bros., and elevates its people -both employees and customers- as the century-old company's core resource.
Heartland Headquarters

|

Rand Elliott Architects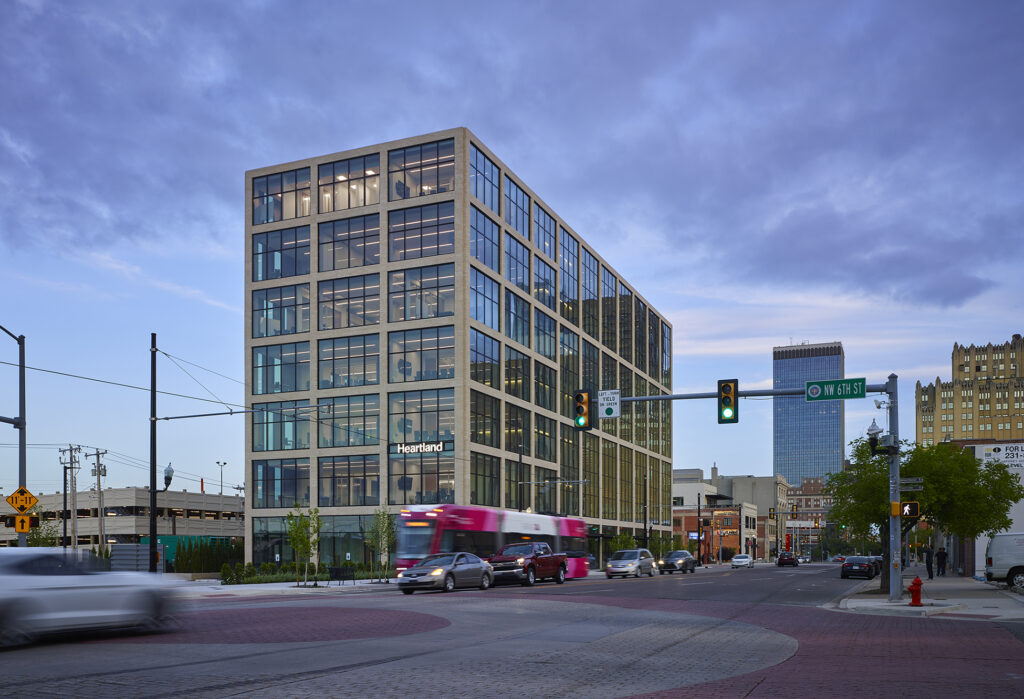 Photography by Rand Elliott Architects
This project in downtown Oklahoma City converted a surface parking lot into a seven-story, 111,530 SF mixed-use office building. Its location along OKC's Automobile Alley Historic District and adjacency to the Central Business District places it at the heart of a bustling and fast-growing downtown area.
With a Historic District site designation, it was important that our solution remained respectful of the historic context. The building pulls inspiration from the classic proportions found in many of the surrounding historic buildings and the limestone-colored brick was inspired by the neighboring limestone historic buildings. The scale of the windows changes as you move from north to south – smaller windows on the north reflecting the existing historic buildings and larger windows placed toward downtown where glass curtain walls are prevalent. From a bird's-eye view, the building is in an L-shape. On the east, is the cantilevered sixth-floor conference room and protected outdoor garden space.
Inside, the seven-story building has two retail spaces on the first floor. Office space occupies Floors 2-7. The building offers plenty of natural light for the company's employees and features natural materials, good acoustics and active amenities that speak to the company's culture and values.
Herman & Kate Kaiser YMCA

|

GH2 Architects

Photography by Yellow Dog Design Works
Located just minutes from downtown Tulsa, the YMCA has provided an outdoor camp experience for nearly 65 years. In that time, thousands of Tulsa's youths have learned more about the great outdoors while making life-long friendships. To better educate generations about the world around them, the YMCA of Greater Tulsa worked with the project team to design what is now the new standard for YMCA programming across the country. The 35-acre site was master planned to provide an organic camp experience in an urban environment.
The site includes 25,000 square feet of new indoor activity space. Connecting the facilities are methodically planned trails and play areas that lead to the new 250-seat amphitheater / chapel, nestled into the existing topography and overlooking Lake Logan and William E. Smith Lodge. After multiple in-depth reviews with the YMCA, the new campus has taken on an entirely new identity to provide the community unmatched outdoor and indoor education spaces.
The H&KK YMCA and neighboring Turkey Mountain Urban Wilderness (located just seven miles south of the urban core) have provided essential natural reprieves for the public. For many of Tulsa's impoverished youth, the H&KK YMCA is their only connection to a natural environment.
Tulsa Tech Client Service Center

|

GH2 Architects

Photography by Yellow Dog Design Works
Completed in 2021, the 195,000 square-foot Client Service Center returns all administrative functions previously located off-campus in a blend of offices, student services, meeting spaces and Business and Industry Training Center. The facility focuses on the services it provides to all clients, from students of all ages to industry partners.
Combining contemporary vocabulary with campus standard materials, the facility welcomes visitors to the first stop in their career at a collegiate level experience.
As the opportunities available to students in the career tech system are commonly overlooked, the team designed a facility that allows clients to imagine these options and embrace the journey into their careers. Throughout the atrium and Training Center, dark wood entries are used to signify points of transition. These angled portals are identifiable from anywhere in the atrium and serve as wayfinding for new or infrequent visitors.
In addition to its mission of client service, Tulsa Tech is committed to staff satisfaction. The atrium design allows every office to have access to natural daylight, either directly from exterior fenestration or indirectly filtered through the atrium. This atrium also contains the iconic floating stairs that encourage collaboration between each department.
The Ellison, A Tribute Portfolio Hotel

|

GSB, Inc.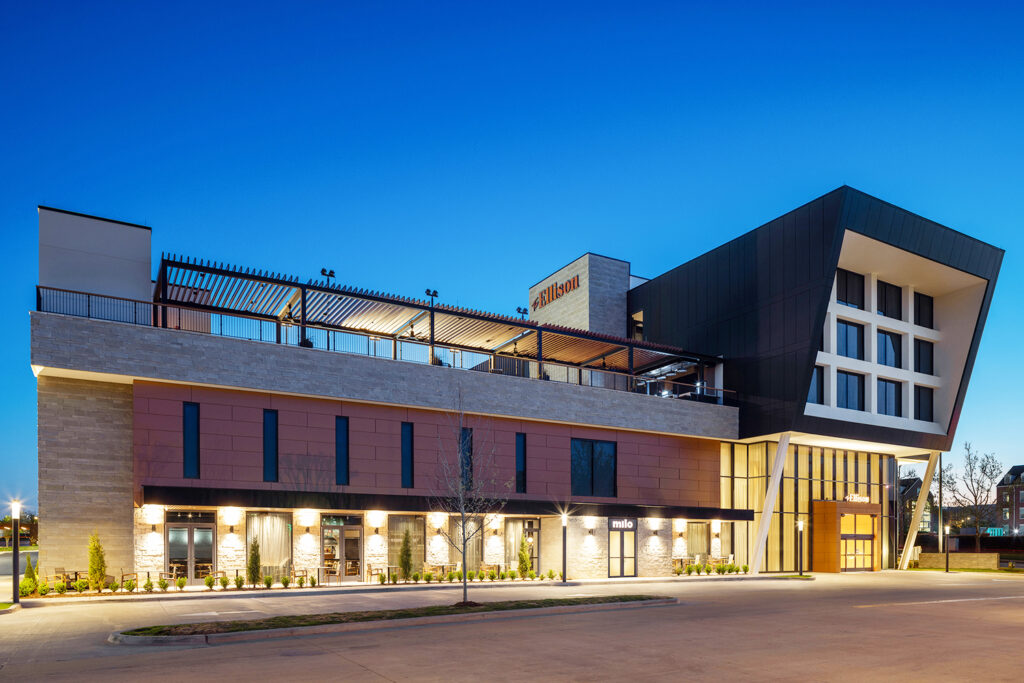 Photography by Mel Willis
The Ellison, named after Oklahoma City native and celebrated author Ralph Ellison, is the first Tribute Portfolio property in Oklahoma. The 77,000 SF property offers 120 well-appointed guestrooms on six levels overlooking both a vibrant mixed-use district and the downtown skyline, as well as Milo, a dynamic and intimate restaurant and bar with outdoor seating.
In addition to the ground level bar and restaurant, The Ellison features a dramatic rooftop pool, terrace lounge and outdoor bar to facilitate nightly socializing and host special events with outstanding city and sunset views.
Other hotel amenities include a dramatic two-story lobby, elegant boardroom, handsome 1,500 SF event/meeting space and upscale fitness center. The hotel's gently sloping site presents an attractive facade to both abutting streets, with the hotel's surface parking concealed discretely behind the building.
The architectural flavor of the hotel exterior is decidedly modern and reflects an intention not to reflect the City's rich history, but represents where the City is headed, its aspirations and vision for the future. The Ellison offers a memorable experience, for visitors and locals alike, in an intimate setting in the heart of an engaging and rewarding neighborhood.
Will Rogers World Airport Terminal Expansion

|

FSB Architects & Engineers

Photography by Christopher Payne Photography
Oklahoma City's growing prominence as a "go to" destination meant that its primary travel hub, Will Rogers World Airport, must also grow in order to provide smooth, efficient and top-level service to an increasing number of travelers. The first-phase terminal expansion provided a huge step toward this ongoing goal. Expanding off the east concourse, the project included design and construction of three structural bays and four new gates, a streamlined security checkpoint, a glass-enclosed public observation gallery, additional seating in the baggage claim area, and space for shopping/dining/concession amenities. The new security checkpoint consolidates several existing TSA checkpoints and permits travelers to significantly reduce check-in times through the use of smart technology. Ticketed passengers are welcomed to the town square surrounded by natural light. Integrated wayfinding signage and art help orient the traveler.  The public enjoys new lobbies with comfortable seating and digital displays while waiting on arriving passengers. In addition, the observation deck provides the public easy viewing of the east concourse and aircraft operations. Airport police moved to the ticket counter level, the Military Welcome Center is reopened in the terminal, and additional office space for airport tenants and administration were provided.
Interior Architecture
Arvest Bank Regional Headquarters Office Renovation

|

FSB Architects + Engineers

Photography by Simon Hurst Photography
Beginning as an assessment and due diligence report, our design team was soon tasked with the design of the new Arvest Bank headquarter offices. Located in the first and second stories of the Bank of Oklahoma Tower in downtown Oklahoma City, the 40,000 SF interior renovation will feature a contemporary solution utilizing clean and simple lines and forms, sophisticated interior finishes, a light and neutral color palette with accents of the Arvest blue, and an open office layout. A new ceiling system and lighting design will enhance the aesthetic and functionality of the space while glass partition offices and open systems furniture will maximize natural daylighting and exterior views. A new teller counter will be a focal point of the new banking lobby. Amenities and furnishings, such as a coffee bar with café-style seating, comfortable lounge areas with seating and customer services, will come together to cater to a positive customer experience.
Dallas Cowboys Bar & Grill Renovation

|

FSB Architects + Engineers


Photography by Simon Hurst Photography
Located inside the WinStar World Casino and Resort, the Dallas Cowboys Bar and Grill provides a distinct experience unique from the casino. Desiring to increase the number of food and beverage patrons, our team was called upon to execute a full demolition of what was previously occupied by a nightclub. The newly renovated space will consist of an upscale dining area as well as an active sports bar, with the intention of recreating the Dallas Cowboys Stadium Club experience at WinStar. The main entry façade attracts patrons into the restaurant by utilizing large scale glazed openings to provide a view into the bar and dining room from the gaming floor. The concept provides an overall feel inspired by elements of AT&T Stadium and prominently features the Dallas Cowboys logo star and team colors which are instantly recognizable by fans. The single-story space will include a 17 seat bar top, 54 seat high-top bar seating and 270 seat dining room. Large LED screens are featured throughout the space, allowing several sporting events to be viewed at once from any angle. A large opening at the back of the dining room provides a view of the wood fired pizza oven.
Caption Partners

|

Fitzsimmons Architects


Photography by Mel Willis
Caption Partners is an interior buildout of new offices on the 22nd floor of a tower in downtown Oklahoma City.
Initially inspired by the classical colonnade – a symbol commonly used by every corner of the finance industry – the Caption space was laid out with a grid of closely-packed white "columns" separating individual spaces.  Omitted or embellished as necessary, these columns also serve as host to the functional necessities of the space; encompassing cabinetry and artwork, elevating a custom conference table, shrinking down into mobile board-gaming stations, or making way for circulation.
Great effort was made to expose the existing pan-formed concrete structure at the ceiling plane while still maintaining a consistent visual appearance from street-level – a requirement among all tenants within the tower.  Working with building ownership, we agreed on ways to bend – but not break – the rules to allow the expression of the raw concrete above and provide the most expansive volume that could be achieved within the space.
The simple and minimal material palate is warmed by walnut veneer panels enveloping the lobby and connecting through from the open office back to the kitchen cabinetry.  Brand colors accent walls and alcoves and the Oklahoma sky provides an ever-changing dramatic backdrop.
Izakaya

|

Fitzsimmons Architects


Photography by Joseph Mills Photography
Izakaya's character was conceived as a glimpse of the experience one would have while wandering the dense, pub studded, alleys of urban Japan. An elevated entry deck projecting into the public right-of-way dressed in dark curtains and battens speaks to medieval Japan and announces entry to the restaurant.
Lighting within the space was kept intentionally sparse to create an intimate mood for dining while reserving bright wash lighting for a prominent mural visible to patrons throughout the restaurant.
Dressed in dim light, two central structures within the space, one solid and one open, function as organizing bodies derived from In-Yo, the Japanese symbol of balance synonymous with Yin and Yang. Analogous positive and negative spaces converse as the bar, caged in dark stained wood battens, plays in tandem with the open grill defined by its exposed red vent hood offering patrons a full view of dishes undergoing preparation.
Flamingo Tiki

|

Allford Hall Monaghan Morris

Photography by Eric Schmid
Flamingo Tiki is the second project for client Humankind Hospitality, and it joins the Oso on Paseo bar in the thriving arts community of the Paseo District of Oklahoma City. The new fit out introduces a large central bar with curved banquette seating and additional terrae seating outside. The new interior teams mid-century styling and materials with a tropical color palette that extends to its bright pink exterior. The tropical theme is further enhanced by the introduction of indoor planting, LED planted lighting, hanging planters and window boxes.
Flywheel

|

Allford Hall Monaghan Morris


Photography by Eric Schmid
Flywheel is an interior office fit-out for Flywheel Energy Management, on the third floor of the Heritage Building in downtown OKC. Key drivers for the project were openness and flexibility, to accommodate future growth and the evolution of the company. The office space has been designed around a central multifunctional space or 'town square', with workspace, meeting rooms and amenity surrounding it. This central hub is where the company holds monthly update meetings, break outs and social events. A large skylight has been introduced to the middle of the plan directly above the town square increasing the natural light and sense of space. Planting has been used throughout the project to help define spaces and break up portions of open plan.
Mary Eddy's Restaurant Renovation

|

ADG |Blatt Architects

Photography by Mel Willis

Photography by Nolan Wilds
Mary Eddy's is an established dining destination inside the 21c Museum Hotel. The restaurant, located in Oklahoma City's urban core inside the 1916 Ford Manufacturing Plant, had provided seating for 200 since 2016. The owner's vision was to expand, providing guests with more variety, while encouraging engagement from the surrounding community. Owners also wanted to improve acoustics and revise the interior design to build a stronger identity and connection to the restaurant's namesake, Mary Eddy, grandmother to members of the investor group. 21c's goal to expand guest options drove the decision to divide the space into three restaurants: 1) a remodeled fine dining restaurant, 2) the Bodega Coffee Bar and 3) the Pool Bar. Two exterior entrances were added to activate the neighborhood street and improve operations. The hotel was able to increase overall dining capacity from 200 to 290. Mary Eddy's refresh more closely resembles its namesake's Neoclassical dining room, which was always filled with hospitality and cozy ambience. The integration of velvet, soft seating, crystal chandeliers and a new group dining room add value. The new Bodega and Pool Bar offer guests more dining options. A new shallow pool creates an oasis for hotel guests and nearby residents alike.
 WGN America NewsNation | REES


Photography by WGN America / Clickspring Design
WGN-TV had a vision of a news network that reported stories from an unbiased perspective. To support this goal, our team designed an interior finish-out of approximately 13,000 square feet of unfinished space at Nexstar's WGN-TV facility. The new facilities accommodate and integrate both broadcast and workplace technology in ways that are functional, support efficient workflow and look great on-air.
The office space has a variety of work areas, including focus rooms, collaborative spaces and a large conference room with a movable glass partition which opens for flexible meetings. Newsroom totems marked with each national area have digital screens and acoustical fins extend across the ceilings which absorb sound. The main office area has large windows, allowing in ample natural light.
Our designers coordinated with set designers to create a cohesive newsroom and studio. Studio sets and graphics emphasize the perspective of the local communities where NewNation viewers live. Designers integrated warm tones, wood accents, and bright blue hues that capture the spirit of the Midwest.
The design accommodates future growth in news production as NewsNation evolves and grows. WGN-TV NewsNation held their first broadcast in September 2020.
St. Thomas More University Parish and Student Center

|

Krittenbrink Architecture LLC


Photography by ERB Architectural Photography
The St. Thomas More Student Center was built as a multi-purpose facility, completed in 1979.  Over time, it morphed into a combination student center/family parish, yet the facility remained the same.
Solutions
Our job was to create a new worship facility that would house both functions comfortably, and provide meeting/worship spaces for both, and create a physical relationship with the University of Oklahoma across the street.
Additionally, religious contemporary architecture of the 70's is not acceptable 40 years later, so meshing traditional and contemporary architecture into one cohesive structure.
Cross Neighborhood – Interiors

|

ClarkNexsen & Studio Architecture


Photography by Simon Hurst Photography
Cross Neighborhood is the University of Oklahoma's newest mixed-use residential community.  The complex houses over 1,200 students in four buildings featuring suite-style rooms.  Additionally, Cross Neighborhood contains numerous amenities – including multiple dining venues, retail, a medical clinic, creative spaces, a salon, and workout facilities – designed to combine all aspects of student living into one communal student village.  Each building in the complex will be a distinct residential college that continues the University's commitment to provide students with a quality living-learning environment with a faculty-in-residence.  A "den" adjacent to each faculty apartment provides a common space for students and faculty to gather and interact.  The student amenities at Cross Neighborhood are unique on campus and further enhance the quality of student life.  A selection of nine dining venues (including a fresh market, an allergen-free bar, and a coffee shop), a black-box theater, a maker space, a workout facility, a music rehearsal space (all four contained within FEMA-rated tornado shelters), two retail shops, and a medical clinic make this a uniquely mixed-use community on campus to appeal to the modern student.  Between the many dining options, commercial amenities, and various indoor and outdoor features that create the spontaneous interactions of campus life, this complex is more than an apartment building – it is a lifestyle center.
425B

|

Rand Elliott Architects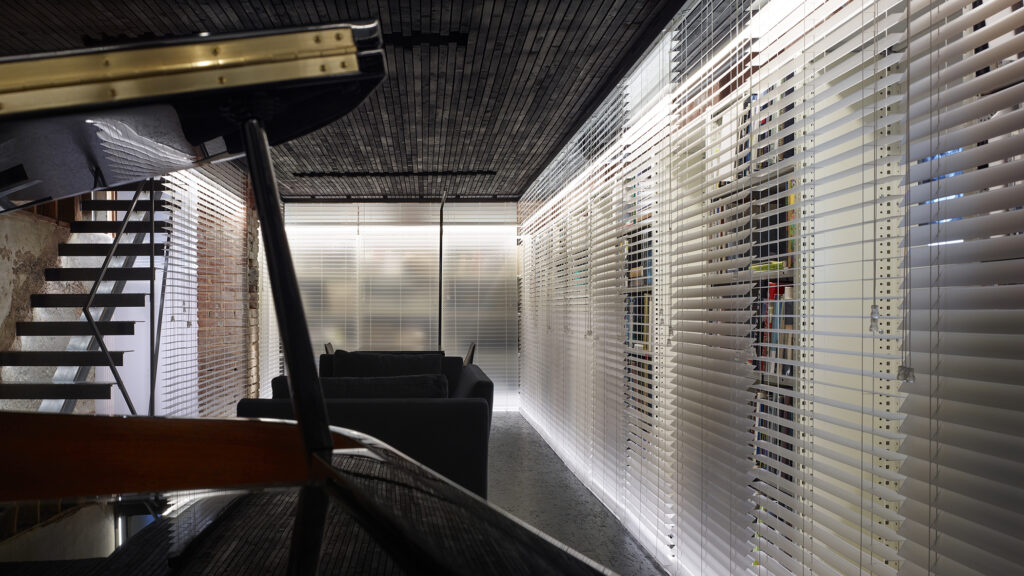 Photography by Scott McDonald, Gray City Studios
The project concept was to create a space defined by the romantic energy of light. It considers the relationship of a 1920s structure energized with LED lighting, raw surfaces, and elements of surprise and whimsy. Original concrete walls, a black wood lath ceiling, lacquered strand board floors, and custom 2" frosted acrylic blades combine to create texture and glow. Simple, budget materials are used in natural ways to create a mysterious and contemplative atmosphere.
The raw steel plate stair descends between original aged and cracked plaster walls and ceiling. Original wood studs are infilled with mirror, detailing the position of the crawl space. The room is a 1,000 volume library – a place for writing, reading or an evening of music. Adjustable frosted acrylic blades provide infinitely changing light qualities – closed to open, dim to bright.
A magnetic steel panel at the bottom of the stair allows changeable large-scale works to capture the inspiration of the moment. Five empty bookshelves become alcoves for a changing mini-exhibit. Unexpected details include a glass floor that connects the level above, a sculptural toilet and a hidden pocket where the original boiler lives as sculpture. More than a room, it is an experience.
Scout Benefits Group Office

|

Robinson Park 

Photography by Weston Waugh | Stout Media
The Scout Benefits Group had the desire and intent to build out a beautiful, functional, modern office space while honoring the historic beauty of the Pioneer Building. Rather than trying to duplicate the ornate crown molding and limestone detail found on the exterior and in the lobby of the building, Scout Benefits Group worked with the architect and contractor to instead to let the historic character truly shine by contrasting ornamentation with clean, modern lines, and sprinkle the space with purposeful moments of color. With a focus on the tangible experience, every detail – the casing around doors, the door and cabinet hardware, the placement and subtlety of mechanical and electrical equipment – is centered around the idea of paying homage to Oklahoma City's first "skyscraper", and the wonder and richness of working in a building that has been present through the changes and growth Oklahoma City has seen since 1907.
Excellence in Craft
Airbus Delivery Center

|

FSB Architects + Engineers

Photography by FSB Architects + Engineers
This new expansion consists of customer and administration space and was designed to resemble the existing facility while incorporating a more customer-centric design. The expansion is oriented 90 degrees to the existing facility and includes a prominent customer entrance, lobby, multi-purpose spaces and ceremony spaces. Our team designed a custom wall covering utilizing the Airbus icons to resemble North America and an Airbus A220 aircraft. We used over 80 specific aviation icons that are internationally recognized and understood by all. The two graphic images were created using the icon system as pixels, then integrated into over 800 SF of wall covering.
Nonesuch

|

Fitzsimmons Architects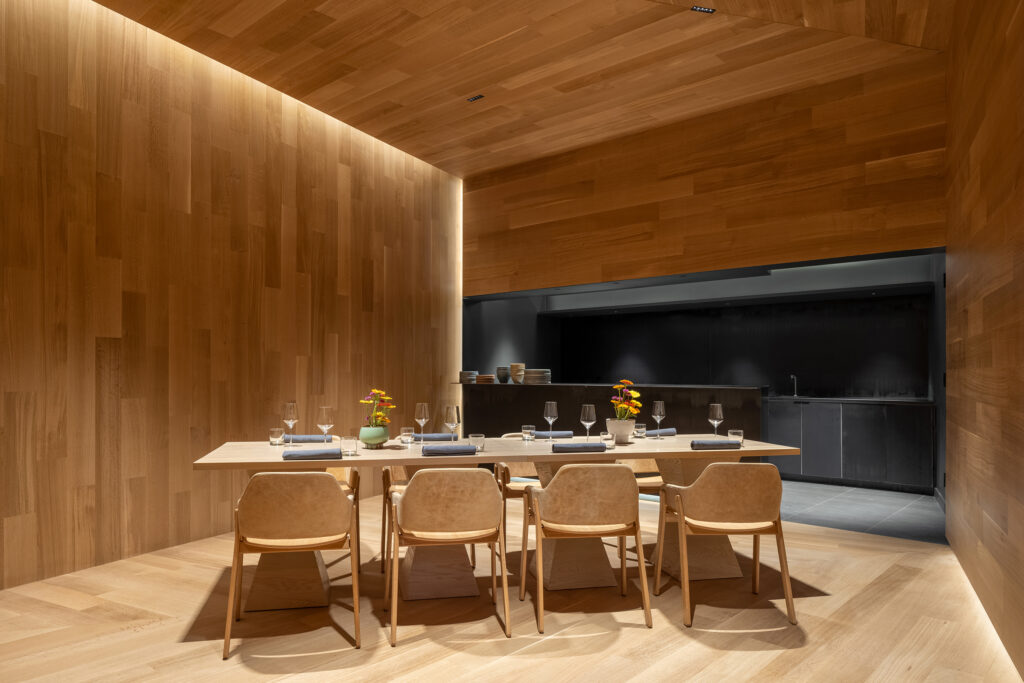 Photography by Mel Willis
The Nonesuch project was the expansion of an existing restaurant into adjacent tenant space, creating a new private dining room with "hidden" access. To create a warm and intimate space, engineered wood was installed on the floors, walls, and ceiling. The room is encapsulated by a pair of natural oak shells that never quite touch, balancing sensations of tension and calm. Hot rolled steel was used to create the bar area. Concealed light fixtures in the cove areas provide effective yet minimal lighting.
First National Center

|

ADG | Blatt Architects


Photography by Tanveer Badal Photography
The First National Center former bank headquarters completed in 1931. Its recent renovation and conversion has restored one of downtown Oklahoma City's Art Deco jewels and has had a positive impact on the local economy since completion in spring 2022, bringing in visitors and residents. The Great Hall is the building's heart. It is the crown jewel of the building and holds precious memories for community members. Historic materials were integrated back into the building reinvigorating the life of both the building and downtown. Notably the ornate, painted ceiling decoration was refurbished and elevator doors were recreated to match the original inlays. In the former banking hall's teller areas a restaurant named Tellers features restored, two-foot- diameter ancient replica coins, and repurposed banking teller counters and windows that outline dining "booths." A broad staircase leads visitors up to the Great Hall, a three-story public area which had served as a grand event space for decades after the bank closed. The open central rectangular area of the hall is outlined by 14 massive Corinthian columns each of which consists of a marble cylindrical base topped by fluted limestone shafts and hand-carved Roman Corinthian capitals, the height approaching three stories.
First Americans Museum

|

Johnson Fain and ADG | Blatt Architects

Photography by McNeese Stills + Motion

Photography by Mel Willis
First Americans Museum celebrates the 39 Native Nations of Oklahoma. The 175,000-square-foot building contains exhibit spaces, multi-purpose theaters, cafe, restaurant, classrooms, event spaces and administration offices. The geometric radial influences of the overall site plan feature a singular path that conceptually emulates the origins of Native peoples, being "of the earth." The 110-foot-tall glass Hall of The People provides passage of this 10' path allowing museum patrons to begin their journey through to the top of the Spiro-inspired mound. The design for the Hall of People drew inspiration from native peoples and their history. The structure is supported by 10 columns that represent the 10 miles per day the Native people were for forced to walk during the Trail of Tears. The west façade is supported by a series of radial trusses that penetrate the east façade that pay homage to native headdresses. The over-all structure takes inspiration from wickiups, traditional grass lodges made by the Wichita Nation, and Spiro Mounds from natives local to Oklahoma. This monumental entry also honors ancestors who made the courageous journey from tribal homelands across America to "Indian Territory." The variation in stones serves as a metaphor for the distinction amongst nations who were removed to this place.
National Native American Veterans Memorial

|

Butzer Architects and Urbanism


Photography by Alan Karchmer for NMAI
The National Native American Veterans Memorial, entitled "Warriors' Circle of Honor" is set on the grounds of the National Museum of the American Indian. It honors the many American Indian, Alaska Native, and Native Hawaiian individuals who have served in the U.S. military.
We offer a visual essay in craft that reveals the pulse of the National Native American Veterans Memorial on the National Mall in Washington DC. The Call to Honor is the concept, with the drum as the first of five elements in its actualization. Rippling water beats across the top of the Drum, above which the Warriors' Circle of Honor floats. Emanating from the Drum are four bench segments that invite visitors to rest upon their granite ceremonial blankets. Concentric arcing bands of igneous stone radiate underfoot. Successions of weathering steel pickets in rhythm are partially woven into a staff with silver ribbon handrail, manifesting as the compositional binder most deserving of focus for this submission about craft.
Alliance Steel

|

Rand Elliott Architects


Photography by Rand Elliott, FAIA
When approached about designing an addition for Alliance Steel's OKC headquarters, we saw an opportunity to put metal buildings in a new light. Collaboratively exploring what engineering, technology and skill might create. A distinctive and economical building emerged – a showcase for the many ways to imagine steel systems and bring them to life.
Sitting back 650' from the street, a dynamic steel sculptural was used to bring attention to the front door. The form illustrates lightness, drama, strength, and the beauty of steel detailing. Fabricated by the Alliance team, it celebrates their materials, systems, and skills, projecting a sense of pride.
Project detailing shows the "honesty" of materials. The project reimagines standard metal building materials. A variety of metal panels – corrugated and smooth — became walls and stairs, adding texture ranging from bold to delicate. Perforation allows them to filter sunlight, creating transparency and interest. Our goal was to make the interior space fresh, crisp, and bright by combining metal and light.
K-12 Education
Western Gateway Elementary School | Allford Hall Monaghan Morris


Photography by Eric Schmid
Western Gateway Elementary is a 380-student pre-kindergarten through to fourth grade elementary school in a quickly growing purpose built new urbanist community in Oklahoma City. The bilingual public elementary prioritizes families from the immediate neighborhoods and offers a 'dual immersion' educational approach that celebrates cultural diversity and acts as a bridge connecting Spanish and English speaking communities.
Conceived and delivered to an extremely tight budget the project used robust, low maintenance materials in a new and unique way to create architectural delight, using a simple yet refined material and color strategy. The single-story building addresses a key intersection with an articulated brick facade and prominent corner entrance. Internally the school is arranged around a large courtyard, creating a secure and safe place for collaborative learning and play, whilst providing protection from the strong Oklahoma wind and summer sun. All classrooms within the school are flexible with large open spaces benefitting from dual aspect natural light and more intimate spaces for individual or group learning. The landscaping has been specifically designed to be seasonally interesting during the school year, coinciding with the typical dormant season, and planting carefully selected to be both educational and beautiful all year round.
Capps Middle School

|

LWPB in association with DLR Group


Photography by DLR Group
Inspired by Henry David Thoreau's words, "I took a walk in the woods and came out taller than the trees," Capps Middle School re-envisions an existing neighborhood park into a new, 170,000 SF future-ready middle school. With thoughtful, sustainable design in mind, the building proper is heavily influenced by its natural setting. Rather than build along an existing creek, the school uniquely sits on its east and west sides with a stunning bridge that connects the building physically and serves as a core hub academically. Every aspect of the interior was designed to support innovative educational opportunities from state-of-the-art, collaborative learning studios to open, transparent and flexible spaces for hand-on-learning. Continuing to operate the campus as a community asset with outdoor amenities available to the community, the building is more than a school –- Putnam City Schools is supporting the entire community as they utilize the new space to reinvent education and engage in design that is both inventive and responsible.
Mustang Performing Arts Center

|

MA+ Architecture

Photography by ERB Architectural Studio

Photography by Simon Hurst Photography
Located on the Mustang High School campus, The Mustang Performing Arts Center offers first-class experiences for audience members, operators, performers, staff, and students alike. This top-quality education space fulfills Mustang Public Schools' desire to help lead students to a variety of career paths within the performing arts industry.
As the primary location for performing arts events for the School District and surrounding community, this 58,000 sf facility houses the district's high school performing arts programs and is designed to host a variety of events and professional performers. Entry lobbies support smaller-scale productions and the main lobby also features a student artwork gallery. Two theaters; the primary 1,500 seat auditorium and the secondary black box style theater are supported by a scene shop and music library storage area along with a multitude of classrooms, catering kitchen, costume storage, dressing rooms, rehearsal spaces, and support areas for students and performers.
Tony Goetz Elementary School

|

GH2 Architects

Photography by Yellow Dog Design Works
Tony Goetz Elementary was originally constructed in Muskogee, Oklahoma in 1948.  Due to challenges with the aging existing building, Muskogee Public Schools decided to demolish and rebuild a new school as part of the 2019 "Made for More" Bond. The existing Storm Shelter and Gymnasium structures were in good condition and kept in place while new construction connecting the spaces consisted of 20 new classrooms, Cafeteria and Kitchen, Administration and Media Center for a total size just under 50,000 square feet. Site work included a new bus drive with covered drop off, parking and parent drop off area, new playground equipment and sport courts. The school was designed with the tight-nit community in mind.  Bold colors of blue, green and yellow adorn the school and give energy to the spaces creating a place where students are eager to learn. The house motif was used throughout the corridors, gymnasium, and media center to emphasize the community feel of the school and give a sense of cohesion throughout the school.