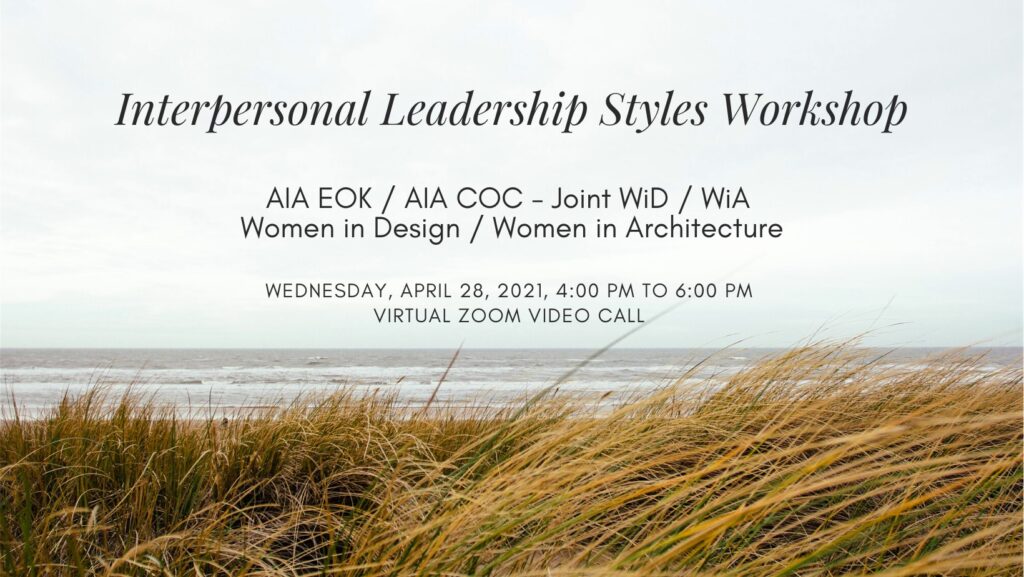 Please join AIACOC Women in Architecture and AIAEOK Women in Design on April 28th from 4:00 – 6:00 p.m. as Wendy Thomas, Executive Director of Leadership Tulsa leads us through a workshop where we will discover our own personal leadership style. $25 for AIA EOK and AIA COC members, $40 for non-AIA members. (Space is limited).
Registration deadline: March 31, 2021, 5:00pm – https://aiaeok.org/
The goal of the ILS Workshop is to significantly improve the efficiency and effectiveness of how we communicate, make decisions and work within teams. In this highly interactive workshop each participant will:
• Increase their awareness of interpersonal styles; their own and others' strengths and "behavioral blind spots."
• Become aware of and appreciate differences in others' styles.
• Learn how workplace stress impacts behavior in very predictable ways.
• Improve their ability to build more effective working relationships, despite stylistic differences, by learning how to become situationally flexible.
Each participant will be asked to take a brief 10-minute survey to determine their ILS style. The survey is administered online prior to the workshop. Based on the results the participants will be given an individual report along with a group report. The workshop includes discussion and activities that explore the implications of their individual styles and their organizational dynamics. There is no one-size-fits-all leadership style; the goal is to highlight the importance of leveraging our strengths and flexing our styles in different situations.
Our Presenter:
Wendy Thomas has been Executive Director of Leadership Tulsa, mentoring and guiding boards and board members for nearly 20 years. In her professional role, she has greatly increased the scope and reach of Leadership Tulsa programs. Leadership Tulsa has recently opened their own Leadership Center and added consulting services in the areas of team building, strategic planning and board development as a service to their members and nonprofit partners. The Interpersonal Leadership Styles assessment has been a fantastic tool for building class participants' interpersonal and social/emotional awareness. Wendy is pleased to bring this tool to other groups on request. Wendy is a well-known presenter on board best practices and an adept facilitator of group process. Prior to her position at Leadership Tulsa, she was the Executive Director of the Arts & Humanities Council of Tulsa and has a MA in Arts Administration. She has served on numerous nonprofit boards and has received the Preceptor Award, the highest honor in her field.