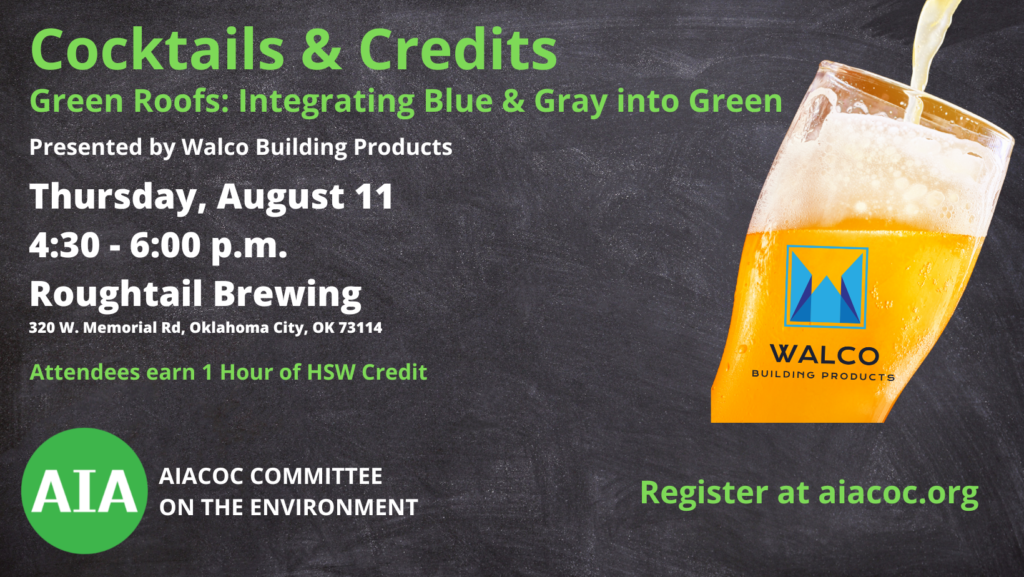 We invite you to join the AIACOC COTE Committee and Walco Building Products for Cocktails and Credits on August 11th. The team at Walco Building Products will discuss the benefits of Green Roofing systems. Snacks and drinks will be provided by Walco Building Products.
Space is limited to 30 participants.
For those that join us, please search online for 'green roofing examples' and bring a few of your favorites to the session.
Course Description:
Green roof systems are typically described in terms of soil depth (intensive vs. extensive) or where they are assembled (built-in-place vs. modular). These are useful categories, but do not address key elements of green roof design, such as drainage, water storage, roof slope, and other considerations. This presentation will review different green roof systems and components, and their use in meeting project goals relating to stormwater management, integration with hardscape, and constructability.
---
Find Continuing Education Courses at AIAU at https://aiau.aia.org/
Also, mark your calendar for the AIA Oklahoma Conference on Architecture – September 29-30, 2022 at the Cox Business Convention Center in Tulsa.