The AIACOC Committee on the Environment (COTE) works to advance, disseminate, and advocate—to the profession, the building industry, and the public—design practices that integrate built and natural systems and enhance both the design quality and environmental performance of the built environment. COTE serves as the community and voice, on behalf of and at the direction of the AIACOC Board of Directors, regarding sustainable design.
AIACOC COTE reflects the profession's commitment to provide healthy and safe environments for people and is dedicated to preserving the earth's capability of sustaining a shared high quality of life.
Committee Members:
Chair: Michael Hoffner, AIA of hoffnerdesignstudio
Ben Butler, AIA of Rand Elliott Architects
Dan Govin, AIA of Allford Hall Monaghan Morris
Brian Hines, Assoc. AIA of ADG
Chase Webb, Assoc. AIA of Studio Architecture
Kristi Warren of Best Companies
Upcoming Events
—————————————————————————————————
2021 COTE OPEN FORUM – June 24, 2021
MORE INFORMATION
————————————————————————————————–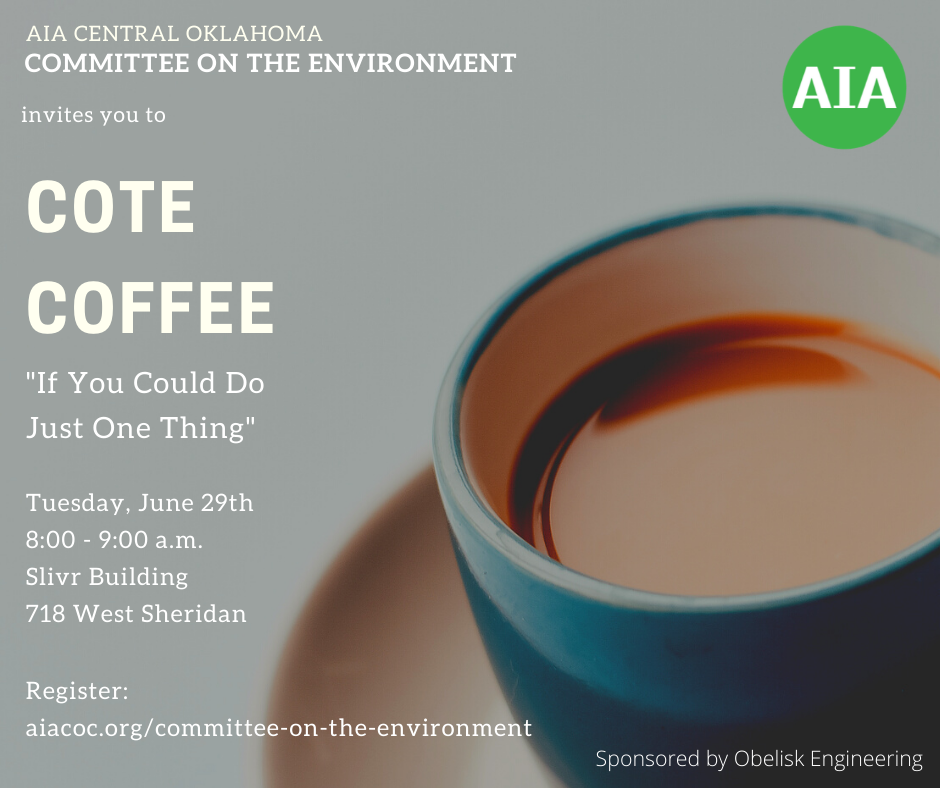 Announcing the inaugural AIACOC Committee On The Environment COTE Coffee!
Join in on a fun brainstorming session: We'll outline a Central Oklahoma adaptation of AIA's Framework for Design Excellence, mirroring the "If you can do just one thing" sections. What is the purpose of doing this? Glad you asked! This event launches an AIACOC COTE outreach project that positions AIACOC Architects as experts in resilience, sustainability and community building. More details over coffee!
This will be a casual event where participation in the discussion is encouraged. So swing by on your way to the office – light snacks and lots of really good [regular] coffee will be on hand, or bring your own if you prefer – but do sign up, as space limits us to 20 participants. The event will take place at höffnerdesignstudio, The SLIVR Building, 718 West Sheridan, OKC, OK 73102; Tuesday, June 29th, 8AM – 9AM.
——————————————————————————————————–
Additional Information & Resources
AIA National Sustainability page
Architect's Primer on Sustainable Energy [free download]