To post a job opening, email your job opening in one paragraph with 150 words or less.  Openings larger than 150 words will not be posted.  Openings will remain posted for 30 days.  AIA Central Oklahoma and AIA Eastern Oklahoma members post free and nonmember cost is $50.00.  Those outside of Oklahoma can place on ad for $50.00.
Monday, September 14, 2020
Kerr 3 Architects is looking for an experienced Project Architect to manage the architectural design services of assigned projects. Primary Responsibilities: Develop a thorough understanding of projects' design philosophy. Responsible for a project's design effort. Contribute to the preparation of design documents. Lead the detailed development of construction documents during all project phases.   Direct the production of schematic, design development and construction documents drawings. Maintain contact with clients, consultants, and contractors during all project phases. Document and maintain all project correspondence. Attend evening owner meetings as required. Manage ongoing communication with the Owner. Required Experience: Proficiencies in AutoCAD and MS Office are required. Experience in REVIT, SketchUp, Photoshop and presentation graphics is a plus. Candidate Should Have: Five year architecture degree from accredited university. Professional license to practice architecture (or significant progress toward that objective). Excellent communication and client service skills. Email resume to jquade@kerr3.com (Posted September 1, 2020)
Revit Modeler: DAB Architecture is seeking a qualified candidate to fill a Revit Modeler position. This individual will be responsible for accurately translating design drawings that are either hand drawn or developed by other software programs such as SketchUp.  The model will be used in a design-build capacity, and will be required to translate information related to both the design and construction fields.  This position is fast-paced, deadline-driven and requires a high degree of flexibility. Qualifications: Revit 2017 (or newer) with 12 months of use (min.) in a professional services firm. AutoCAD 2013 (or newer) with 12 months of use (min.) in a professional services firm. Microsoft Office 2013 (or newer) with 12 months of use (min.) in a business environment. Expectations: Ability to proactively face challenges. Detail and deadline oriented. General understanding of building construction and building type. General understanding of building systems and the ability to identify MEP elements. Ability to read and understand all disciplines represented in commercial building construction documents. Compensation– This is a full-time hourly position. Compensation will be based on experience. Email resume to: dbrewer@dabarchitecture.com.  (Posted August 31, 2020).
WTA has a 25-year history of designing a wide variety of projects in Oklahoma and Kansas. Each member of the firm participates in all phases of project design and construction administration. Open position requires a professional degree in architecture from an NCARB accredited university.  Demonstration of your Revit and/or AutoCAD skills will be required.  Some knowledge of Sketch-Up and Adobe Creative Suite are a plus. Our benefits package includes minimum 2 weeks paid vacation, eight paid holidays, paid medical premiums for employees, employee-paid dental and vision insurance, plus retirement plan contributions upon vesting. Salary commensurate with extent of past experience, technical background, and education.  All inquiries are strictly confidential. Send resume to richard@wtaok.net to begin a discussion. (Posted August 20, 2020)
Integris is looking for an experienced project manager to lead capital projects under the Planning, Design and Construction Department. Please apply and see full job listing, CLICK HERE   Position Summary: The Facility Project Manager is responsible for providing project management of multiple new construction, renovation, and facilities-related projects for INTEGRIS Health including assisting in the planning, design, budgeting of facility projects, and daily management of construction activities to ensure code and regulatory compliance within designated budgets and schedules.  Applicants should have an architectural, engineering or construction background with experience working in healthcare facilities. (Posted August 15, 2020)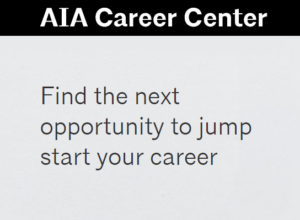 AIA National Career Center Job Openings:  Looking for a job in the architecture industry? View job postings from reputable employers across the country and upload your resume to connect with future employers in the AIA Career Center.  http://careercenter.aia.org/jobseekers/