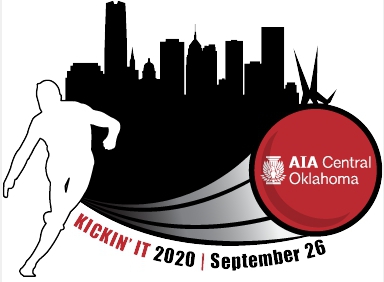 Saturday, September 26, 2020
9:00 a.m. – 3:00 p.m.
PCAA Fields
3100 West Britton Road, OKC
ADDITIONAL INFORMATION:
Teams must be architectural firms and/or Allied member companies of AIA.
Teams are made up of 12 players minimum (and teams can add an additional 3 players to make it 15 players maximum).
Teams are responsible for their own t-shirts but the color must be submitted  and approved by AIA so we're sure everyone has a different color shirt.
Team registration includes:
Boxed lunch for each player
$5 concession stand voucher for each player
Trophy for 1st, 2nd & 3rd Place team 
Medals for players of 1st, 2nd and 3rd place teams
Kickball Tournament Koozie (teams are invited to bring their own adult beverages (cans only) in coolers)
The deadline to register teams is Tuesday, September 15.  
Captain's Meeting will be Tuesday, September 22nd at 5:00 p.m. via Zoom.
Questions? Email Melissa at aiacoc@cox.net
COVID-19 is extremely contagious and is believed to spread mainly from person-to-person contact.  As a result, federal, state, and local governments and health agencies recommend masks and social distancing.  AIA strongly recommends social distancing and masks when teams aren't on the field.  Due to the contagious nature of COVID-19, AIA cannot guarantee that participants won't become infected with COVID19 during the AIA Kickball Tournament.     
Current Teams & Shirt Colors:
JE Dunn Construction – Light / Aqua Blue
2020 AIA Kickball Champions – Red
ES2 – Green
Cobra Kai – Orange
Manhattan Construction- Navy Blue
Capitol Heel – Dark Gray