Color Solutions for Architectural Concrete and Masonry
Tuesday, January 14, 2020
4:45 p.m. – 6:00 p.m.
AIA Office 
presented by:

Open to MEMBERS of AIA Central Oklahoma.
Learning Objectives: 
–Using stain as a cost effective, long term color solution for concrete and masonry
— Blending additions and remolding with stain to save money and resources
— Enhancing communities with color
— Recognizing stain as a sustainable architectural finish.
Attendees will earn 1 hour of HSW credit.
Seating is limited.
---
Want to provide a Cocktails & Credits program in 2020?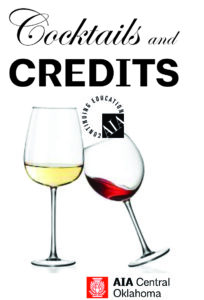 CLICK HERE>>  Request to provide CE program
---

CONTACT AIA CES DEPARTMENT: 1-800-3837 Option 3