The 2023 AIA Architecture Tour will take place on Saturday, April 15th from 12:00 – 5:00 p.m.
Tickets On Sale Now!
$10 in advance | $20 day of the tour
By purchasing a ticket, the tour goer assumes all risk of injury or harm as a result of participating on the tour and agrees to release, indemnify, defend, and forever discharge the releasee from all liability, claims, demands, damages, costs, expenses, and causes of action against AIA Central Oklahoma and the home and business owners.
Please note: Advance tickets can only be purchased online. Tickets can be purchased in person the day of the tour for $20.
-The AIA Architecture Tour takes place rain or shine.
-The tour is a self-guided tour and can be done in any order.
-Tickets are nonrefundable.
-Kids 7 and under attend free but must be supervised at all times.
-There are no public restrooms on the tour.
-Tour goers may be asked to wear shoe booties.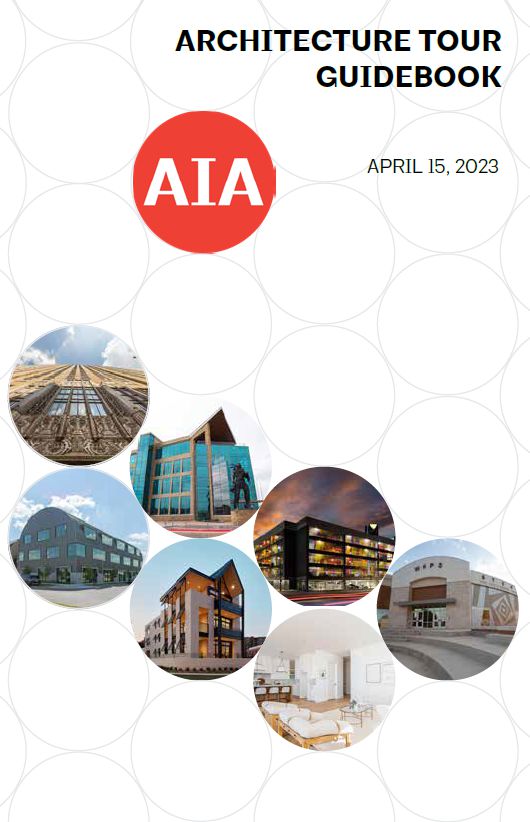 Questions? Email Melissa at melissa@aiacoc.org.
Chickasaw Community Bank
7420 W. Memorial Road, OKC 73142
Architect: ADG Blatt Architects
Contractor: Timberlake Construction
Owner: Chickasaw Community Bank
The new headquarters for the Chickasaw Community Bank will be a culmination of Chickasaw history and a continuation of the Chickasaw story, which includes the establishment of the Chickasaw bank before statehood. This 34,830-square-foot, four-story Chickasaw Community Bank Headquarters was designed to highlight nature and incorporate many sustainable materials, native to Oklahoma. The stone color and the color palette of exterior and interior finish materials express nature and honor colors special to the Chickasaw community.
With the continued growth of the Chickasaw Community Bank (formerly called Bank2), a new headquarters was needed to house the existing 200 Oklahoma City staff members, as well as additional space for continuing expansion. The building is home to not only a new branch bank, but also houses 69 offices, six conference rooms and a multipurpose training center for the growing bank.
The entrance features a 20-foot-tall bronze Chickasaw Warrior statue, a symbol of the strength and resiliency of the Chickasaw people and the unconquered and unconquerable spirit of the Chickasaw Nation. Statue artist: Senator Enoch Kelly Haney
Western Heights STEAM Academy
8201 SW 44th St, OKC 73149
Architect: CWA Group
Contractor: Wynn Construction
Owner: Western Heights Public Schools
In October of 2017, Western Heights Public Schools passed a bond issue that was strategically planned to encourage growth and offer specialized learning opportunities to students throughout the district. The 52,000 square foot STEAM Academy was completed in 2019 and serves as a magnet school alternative. The state‐of‐the‐art facility provides students with learning environments that are uniquely designed to facilitate creativity and problem solving. The building is planned around five core clusters: Music, Dance, Theater, Visual Arts, Science and Mathematics. Each cluster is comprised of both instructional areas and studio spaces, including a Black Box Theater (175 seats), Art Studios and Galleries, Dance Studios, Music/ Choral Studios and Recording Lab, Exterior Amphitheater, Rehearsal Suites, Advanced Science and Robotics labs, as well as sixteen conventional classrooms. The Multimedia Center acts as a central collaboration hub for all five departments and is a Tornado Storm Shelter sized for all building occupants.
Villa Teresa Residences
1323 N. Dewey and 1200 Classen Drive #201, OKC
Architect: Fitzsimmons Architects
Contractor: Lippert Brothers, Jenco Construction and Jacobs General Contracting
Owner: Marva Ellard and Billy Woodring
At the intersection of Classen and Dewey, Villa Teresa is tucked away behind a bustling Midtown. After eighty years of life, Villa Teresa sat vacant since 2012. Once home to the Carmelite Convent and the accompanying Catholic grade school, the grounds are positioned at the center of the City's fastest-growing communities. Villa Developers Marva Ellard and Billy Woodring have long been actively involved in the formation and growth of Oklahoma City's Midtown district and, over the years, a bond formed through overlapping philanthropic efforts, shared board memberships, and a mutual passion for preservation. In 2017, Ellard and Woodring purchased the property, committed to bestowing new life into the historic grounds.
The Villa Teresa Residences project provides a total of 17 spacious flats and tri-level townhomes that redefine life in Midtown. The parcel of land that stood undeveloped for years provided an opportunity to create density that would be a key element to activating the area. The contemporary architecture presents a modern reflection of the historic neighborhood – an effort to preserve and protect the site's story. The pitched silhouettes, the meticulous masonry, the metal accent work, each element of design calls back to the ground's premier Catholic institutional namesake and the surrounding collection of beloved architecture.
First National Center
120 N. Robinson, OKC 73102
Architect: ADG | Blatt Architects
Owner: NE Development
Contractor: NE Development
The First National Center is a 33-story former bank headquarters completed in 1931. The recent conversion to retail center, hotel and apartments restored one of downtown Oklahoma City's Art Deco jewels and has had a positive impact on the local economy since completion in spring 2022, bringing in visitors and new residents alike. The First, a new Marriott Autograph hotel offers 146 rooms on eight floors and The Residences offers 192 apartments on 23 stories. The two office buildings on the east have been converted into a 14-level parking garage. As a beloved building for nearly 100 years, several historic elements were restored and integrated back into the building. Notably, the vault was been transformed into a popular basement speakeasy, gilded ceiling decoration was refurbished and elevator doors were recreated to match the original inlays. By breathing new life back into the First National Center, Downtown's aesthetic environment has been enriched with both history and beauty. Residents enjoy the modern benefits of living downtown while experiencing the elegance of an Art Deco building. With amenities like a pool, gym, salon, dog park, bars, resident lounges, restaurants and entertainment in the building, residents truly enjoy a full-service lifestyle within one building.
Oklahoma City Convention Center Parking Garage
400 S. Broadway Avenue, OKC 73109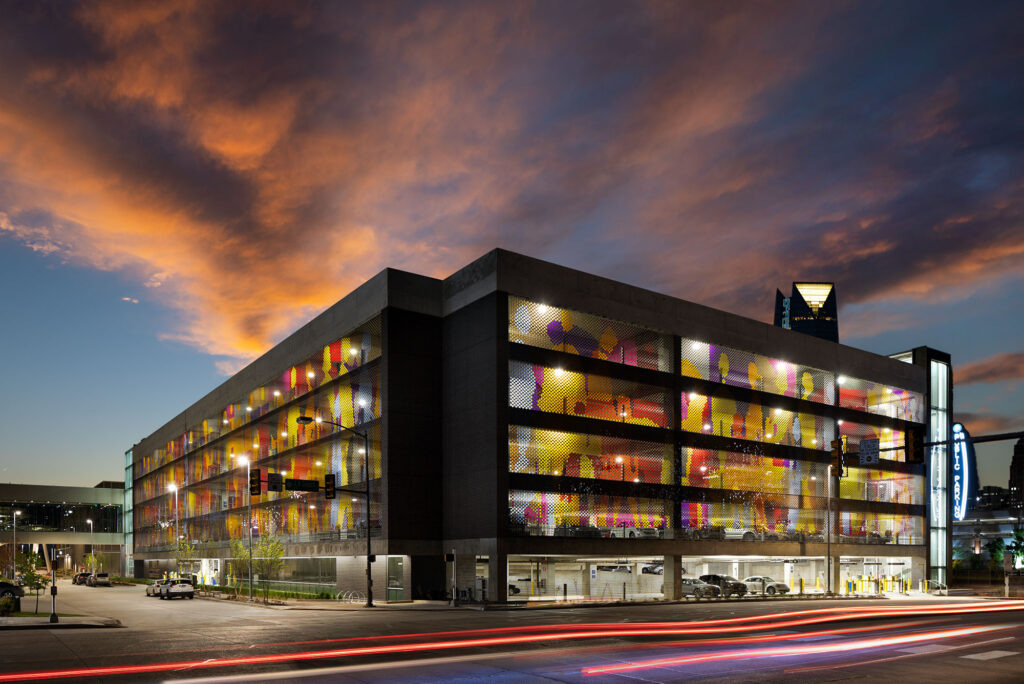 Architect: TAP Architecture
Contractor: Manhattan Construction
Owner: Central Oklahoma Transportation & Parking Authority (COTPA)
TAP worked with the City of Oklahoma City and the Central Oklahoma Transportation & Parking Authority (COTPA) to create a unique parking garage concept to accompany the Oklahoma City Convention Center approved in the MAPS 3 Initiative. TAP was charged with designing a "sexy garage" that would punctuate the surrounding redevelopment.
The project utilized OKC's Arts & Cultural Affairs office 1% for Art Program and selected glass artist Martin Donlin. Martin designed "a 'Frieze' that wraps the building and encapsulates, celebrates, and honors the 'Spirit' of Oklahoma citizens." The mural, 'What Is The City But The People,' makes up the east, south and west facades incorporating 15 separate colors. TAP's resourcefulness and creativity led them to design a gridded canvas system made up of over 100,000 opaque 4-inch square acrylic tiles. The skin of the building allows a tapestry of color and light to flood through the garage.
Aesthetically the garage is a piece of art while functionally is serves as the parking hub for many OKC amenities. At 6.5 stories the garage houses 1,100 parking spaces and 3,000 sq. ft. of office space for COTPA.
Wheeler Office
1801 Wheeler Street, OKC 73108
Architect: Allford Hall Monaghan Morris
Contractor: Lingo Construction Services
Owner: Block 13 Partners
The Wheeler District, once an abandoned airport, is transformed into an ambitious new urbanist development. The first phases of the development focused on driving residents to the neighborhood, by providing dense single family residential units. Wheeler Office is the first mixed-use building for the development, designed to be a three-story office and retail building which signals larger and more dense projects to come.
The history of the original site that once housed a single-story barrel-vaulted airport hangar, is echoed within the building's barrel-shaped roof and its 'dancing windows' that are a playful reinterpretation of the checkerboard airport flag. Whilst paying homage to this history, the project also sympathizes with the smaller granular nature of the development to the west by dropping the perceived plate height. This allowed the building to feel more like a two-story building with an occupied attic. The third tenant then gains volumetric luxury which is not commonly found in contemporary office buildings.
Wheeler Office provides 9,000sqft of commercial space comprising of a coffee shop, restaurant, ground floor retail space and a further 18,000sqft of office space on the second and third floors. The modern warehouse-style of the building allows for future flexibility and multiple uses.
Wheeler District Condo
928 SW 17th Street, OKC 73108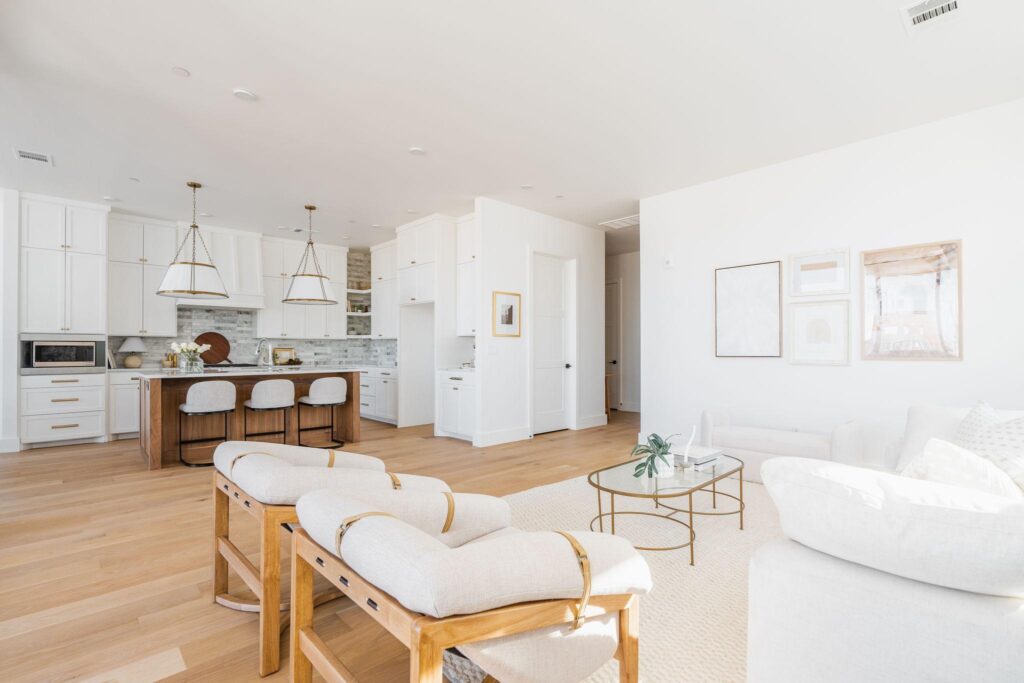 Architect: Allford Hall Monaghan Morris
Contractor: Wheeler Home
Owner: Block 13 Condos
Wheeler Condos is a three story new-build condominium set within the growing Wheeler District of Oklahoma City. The building sits at the northwest corner of the block, acting as a mediator in scale between the adjacent Wheeler Office building and single family homes. The form anchors the corner, maximizing density while providing ground floor retail and office space with four two-to-three bedroom homes on the upper floors. Tall ceilings and large windows maximize views and daylighting. Generous recessed balconies provide protected amenity space and downtown views for each residence.
---