To post a job opening, email your job opening in one paragraph with 150 words or less.  Openings larger than 150 words will not be posted.  Openings will remain posted for 30 days.  AIA Central Oklahoma and AIA Eastern Oklahoma members post free and nonmember cost is $50.00.  Those outside of Oklahoma can place on ad for $50.00.
Sunday, February 10, 2019
Populous is seeking a graduate with 4 to 7 years of professional architectural experience who would be interested in joining our Norman team at our new office location. Populous is where architects and designers of all kinds create moments bigger than ourselves. We're a global specialized design firm with roots in Kansas City. Populous offers the best of both worlds: the resources and impact of the architecture giants and the tightly-knit atmosphere and growth opportunities of smaller firms. Candidates should have a Bachelor's in Architecture from an NAAB accredited program (Masters preferred), and have a proficiency in Revit, AutoCAD, Rhino, Photoshop, Illustrator and InDesign, as well as Microsoft Word, Excel, and PowerPoint. Candidates should have the ability to effectively convey information both verbally and in writing, as well as presentation format. For more information and to apply, please visit: https://populous.com/career-listings (Posted February 10, 2019).
Pella of Oklahoma, an innovative, dynamic, growing company is now looking for a Commercial Sales Consultant for the Oklahoma City market. We need a confident and persuasive individual who is detail oriented and thrives on a challenge. We provide independence as well as an exciting, fast paced, and fun work environment. We look for you to provide a competitive drive, an outgoing nature, and the will to be the best sales representative in the industry. Bachelor's degree from a four-year College or University; or 2 to 4 years related experience and/or training including commercial sales/technical product expertise; or equivalent combination of education and experience. Responsibilities include prospecting and securing new business by influencing the needs of contractors and architects, representing the Pella brand at various industry events, and partnering with customers to recommend appropriate products and solutions to help them grow their business. Email resumes to Greg Evans at gevans@pellaok.com. (Posted February 10, 2019)
Miles Associates is a leader in the design of science & technology facilities for  Higher Education, Corporate, and Institutional clients (www.milesassociates.com).  Our Tulsa Studio has the following job opening: Architect/Project Manager:  Licensed Architect with a minimum of 7 – 10 years of professional experience.  Duties for this full-time position include interfacing with client groups, coordinating with consultants, and directing a team of architects and emerging professionals from Programming through Construction Administration.  In addition, our project managers should bring a unique skill to the table.  That can include expertise in a particular market sector (Healthcare, Higher Education, etc.) or an aspect of the design and management process in which they excel.  We offer a strong benefits package, with flexible hours. If you are interested in working at Miles Associates please e-mail your resume to Marlene Hayes mhayes@milesassociates.com   Include at least three professional or personal references. (Posted January 28, 2019)
Miles Associates is a leader in the design of science & technology facilities for  Higher Education, Corporate, and Institutional clients (www.milesassociates.com).  Our Oklahoma City Studio has the following job opening: Emerging Professional:  Bachelor's or Master's degree in Architecture, preferably with 2-4 years of professional experience.  Duties will include production work on all phases of design and construction administration.  Experience with REVIT desired.  The ability to work with a diverse team composition, communicate openly, and utilize critical thinking skills are essential.  We offer a strong benefits package, with flexible hours. If you are interested in working at Miles Associates please e-mail your resume to Marlene Hayes mhayes@milesassociates.com   Include at least three professional or personal references. (Posted January 28, 2019)
HSEarchitects is seeking a responsible entry to mid-level intern architect for immediate full time employment. We are looking for an individual who is REVIT-proficient, detail-oriented and offers strong communication skills. Candidate will have an opportunity to work on a wide variety of project types and gain a broad range of experience. Our firm offers a work environment that is highly efficient and collaborative.  Responsibilities include working closely with the firm principals and designers in all aspects of project design and construction documentation. Applicants should demonstrate a strong design sensitivity and thoroughness in developing detailed drawings and project organization. Creativity, resourcefulness, and self motivation are important.  Benefits include health insurance, disability, life insurance, and IRA contribution. Email resumes with references and experience to Larry Herzel at larry@HSEarchitects.com, ph: (405) 526-1300. (Posted December 18, 2018)
BWA Architects – located in Norman, OK – seeks to hire a Project Manager. Applicant must have Masters in Architecture and 12 months prior work experience. Job duties include: 1. Draw rough and detailed scale plans for foundations, buildings, and structures based on preliminary concepts, sketches, engineering calculations, and other data. 2. Operate softwares including AutoCAD, Revit, Rhino, and Lumion Softwares to produce 3D and photo-realistic renderings of design. 3. Analyze building codes to determine effect on architectural design. 4. Prepare schematic design and construction documents and specifications under architect's supervision. 5. Represent architect on construction site, ensuring builder compliance with design specifications and advising on design corrections under architect's supervision. 6. Assist with maintaining files and construction contract administration. Interested applicants should send resume to Courtney Smith at BWA Architects, 900 36th Avenue NW, Suite 100, Norman, OK 73072. (Posted December 18, 2018)
---
A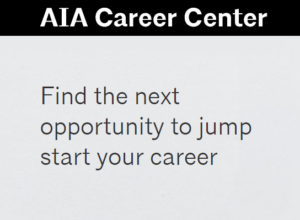 IA National Career Center Job Openings:  Looking for a job in the architecture industry? View job postings from reputable employers across the country and upload your resume to connect with future employers in the AIA Career Center.  http://careercenter.aia.org/jobseekers/