To post a job opening, email your job opening in one paragraph with 150 words or less.  Openings larger than 150 words will not be posted.  Openings will remain posted for 30 days.  AIA Central Oklahoma and AIA Eastern Oklahoma members post free and nonmember cost is $50.00.  Those outside of Oklahoma can place on ad for $50.00.
Thursday, August 15, 2019
FSB Architects + Engineers, an established multi-disciplined architecture and engineering firm, is looking for an Architect.  The Architect thrives in a dynamic work environment, where enthusiasm, creativity, organization and a winning attitude is desired. Requirements: Bachelor's degree in Architecture; Licensed preferred; 3-7 years of experience on a variety of project types; Experience with large, complex projects with multiple building types; Proficiency in Microsoft Office Suite and REVIT; Excellent at establishing and maintain customer relationships; Strong design, creativity, organizational, communication and client relationship skills. For more information and to apply, please visit: https://fsb-ae.hua.hrsmart.com/hr/ats/Posting/view/22. (Posted August 12, 2019)
The McKinney Partnership Architects (TMP) is searching for skilled and motivated individuals with 3-5 years of work experience using REVIT for the built environment.  The successful candidates must possess the ability to analyze and produce Revit models from information provided from field notes, measurements, photographs and client information; must exercise independent judgment; handle concurrent assignments with imperative deadlines. Knowledge of construction materials and types are critical. Candidates must be team players with great communication skills. The successful applicant will work within a fast paced and flexible team.  TMP offers competitive pay and benefits, health care benefits for employees and a 401k program.  Visit www.tmparch.com to learn more about us and if you have an interest in being a part of our team, please submit your resume and any other information to us for immediate consideration at tmp@tmparch.com, attention to Toni M. Bragg, AIA
LWPB Architecture Opening: Searching for an employment opportunity that allows you to be involved in projects from inception to completion, look no further! LWPB Architecture is taking applications for Architects and Architectural Interns. The primary project sectors are Federal, Education and Community. Revit experience is required. If you would enjoy a friendly, collaborative workplace and want to be part of a great team, LWPB Architecture is the place for you. Visit www.lwpb.com and send resumes to Craig Foster at cfoster@lwpb.com.
The Leidos NISC III program has an opening for an Architect in Oklahoma City, OK. The candidate must create and review designs and drawings as required and necessary for the alteration, modernization, or expansion of new FAA facilities to support and plan for the integration of National Airspace System (NAS) modernization projects and program systems, components and equipment.  Provide Automated Computer-Aided Drafting (AutoCAD) drawing and database support which can include the production and maintenance of facility baseline, facility record drawings, facility design, architecture/engineering drawings and construction documents for the FAA. A Bachelor's degree in Architecture, Architectural Engineer or related field and 2+ years of relevant experience. Experience creating material boards and using AutoCAD for architectural design. If your referral is hired, we will pay you $2,000. Send resumes to erica.scott@leidos.com. (Posted July 15, 2019).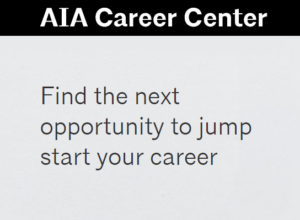 AIA National Career Center Job Openings:  Looking for a job in the architecture industry? View job postings from reputable employers across the country and upload your resume to connect with future employers in the AIA Career Center.  http://careercenter.aia.org/jobseekers/