ARCHITECTURE WEEK 2017
Monday, April 17-23, 2017
Monday, April 17
Preservation Oklahoma to Unveil List of Endangered Places and Present Awards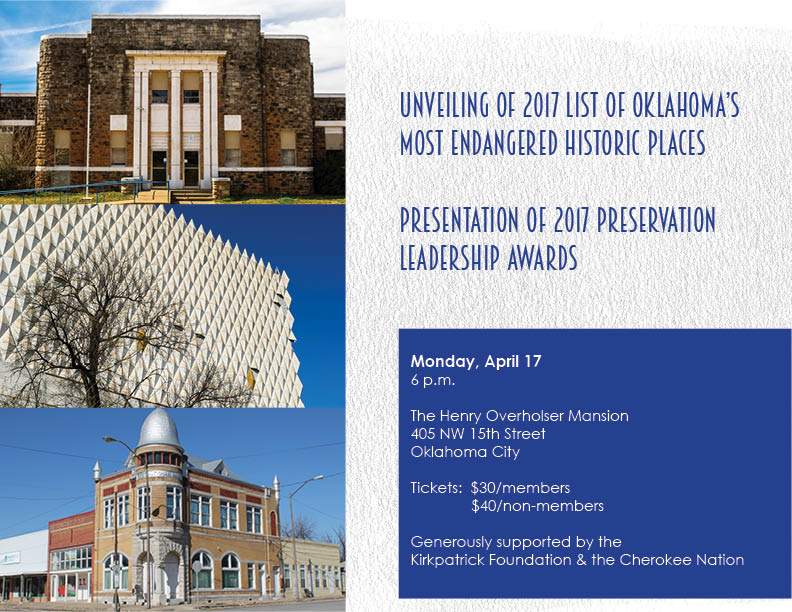 On Monday, April 17, Preservation Oklahoma will unveil its 2017 list of Oklahoma's Most Endangered Historic Places and will also present the 2017 Preservation Leadership Awards. The event will take place at 6 p.m. at the Henry Overholser Mansion, located at 405 NW 15th Street in Oklahoma City.
Since 1993, Preservation Oklahoma has recognized historic properties across the state at risk of demolition or deterioration, raising awareness of the need to protect Oklahoma's historic resources. While inclusion on the list does not guarantee protection or funding, it can be a key component in mobilizing support for the preservation of historic properties. This list was selected by a group of preservation professionals from nominations submitted by the public. An exhibit of the 2017 List will also be unveiled and will travel to numerous locations across the state in an effort to continue the discussion about the need to preserve these historic buildings.
POK's Preservation Leadership Awards honor individuals whose tenacity, courage, and determination are the backbone of successful preservation projects across Oklahoma. The 2017 recipients are: Katie Friddle, Historic Preservation Officer in the Oklahoma City Planning Department, will receive the 2017 Young Leadership Award; Ed Sharrer, Director of Kendall Whittier Main Street, will receive the 2017 Preservation Leadership Award; Bill John Baker, Cherokee Nation Principal Chief, will receive the 2017 Preservation Leadership Award; and Melvena Heisch, Deputy State Historic Preservation Officer, will receive the 2017 Lifetime Achievement Award.
The event is generously sponsored by the Kirpatrick Foundation and the Cherokee Nation.
Tickets are $30 for POK Members and $40 for non-members.   Tickets may be purchased at www.preservationok.org. For more information, please contact David Pettyjohn at 405-525-5325 or david@preservationok.org.
---
Monday, April 17
 Architects Join LEGO CLUB!
Members of the American Institute of Architects will teach children at the Oklahoma City Metro Library's Lego Club about Architecture.
For more information or to learn more about LEGO CLUB, please Marrina Boontheekul at mb@smallarchitects.com or Morgan Jones morgan.jones@metrolibrary.org.
---
Thursday, April 20, 2017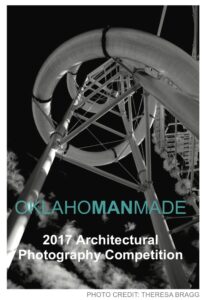 Oklahoma City Foundation for Architecture's OKLAHOMANMADE Architectural Photography Competition Exhibit
5:30 – 7:00 p.m.
AIA / OCFA Office
COST: $10 Donation to OKC Foundation for Architecture  
or Join OKC Foundation for Architecture for $25 and attend FREE
---
Friday, April 21, 2017

AIA Central Oklahoma Honor Awards Program
11:30 a.m. – 1:30 p.m.
Will Rogers Theater
Join us as we honor those who have made an impact on AIA, the profession of architecture and the built environment.  
Keynote Speaker:
Gary Brooks
Cornerstone Development
Developer for the First National Center Project
Emcee:
Ron Frantz, AIA
OU Institute for Quality Communities
Cost:
 $45 per person (after April 10, $50)
 $360 table of 8 (after April 10, $400)
---
Friday, April 21, 2017
IIDA Fashion Show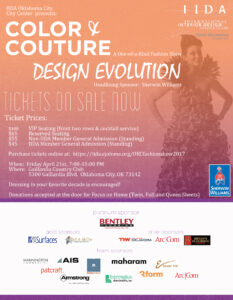 Tickets are now on sale for the IIDA OKC City Center Color & Couture Fashion Show!  Every other year, IIDA OKC unites the design community to benefit a local charity.  A portion of this year's proceeds will benefit Focus on Home.   Manufacturers team with local Architectural and Design Firms to create themed garments that must be constructed using commercial design elements, such as, tile, carpet and textiles. The garments are modeled by local representatives of the A&D community, in the exhilarating Fashion Week style.  Purchase your tickets soon, as tickets for this event sale out early!  PURCHASE TICKETS
---
Saturday, April 22, 2017
KIDesign 2017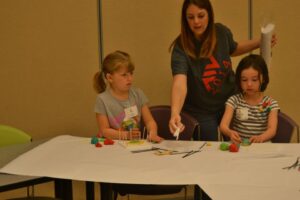 KIDesign is an introduction to architecture and design in the world around us. 1st through 6th grade children
will participate in various activities as they learn, create, and design their own projects with members of the local architectural community.
KIDesign is held each April during Architecture Week.
---
Saturday, April 22, 2017
2017 AIA Architecture Tour
Join us Saturday from noon – 5:00 p.m. for the 2017 AIA Architecture Tour!
MORE INFORMATION  |  PURCHASE TICKETS 
---
 To Be Added to our Architecture Week E-Mail List, email to aiacoc@cox.net