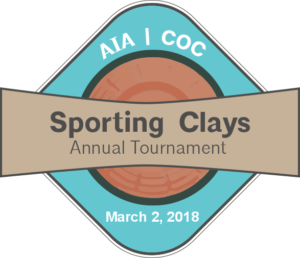 Each Spring AIA Central Oklahoma hosts their Annual Sporting Clays Tournament.
The 2018 Tournament will be held on Friday, March 2nd at Silverleaf Shotgun Sports located at 8513 S. Douglas in Guthrie.
11:30 a.m.  Registration
12:00 p.m. Lunch
12:30 p.m. Mandatory Safety Briefing
1:00 p.m. Tournament begins
Cost: 
$125 per shooter*
$500 per team
We will do our best to place you on a team.  If there's not an open spot on a team, we will refund your entry fee. 
Registration includes:
Entry for 10 station competition, 50 target rounds, Ammo, AIA Hat, Ear Plugs, Safety Glasses, Lunch, Snacks and Drinks
Prizes Awarded for:
1st, 2nd & 3rd Place Teams
Best Shooter in Class
Door Prizes
Rules of the course:
1. If shooters misses Saftey Meeting, he/she WILL NOT be allowed to shoot.
2. All participants (shooters & volunteers) must sign a waiver form upon arrival.
3. Eye and ear protection is mandatory.
4. Shotguns must be open and empty until in the stand ready to shoot.
5. Ammunition shot size must be 7 1/2, 8 or 9 and not over 1 1/8.
6. Carry shotguns with muzzle either pointed up or down.
7. No alcoholic beverages on Silverleaf property.
Deadline to register:  February 26, 2018
When registering online:
If you are submitting a team of 4, please select team of 4 and we will contact you for your team member names and ammo needs. If you have more than one individual (but less than 4) that you want on the same team, select register a guest and add the names of those you are registering.
When registering with the paper form, please submit with your payment.