The AIA Central Oklahoma Design Awards program is held every two years to recognize and celebrate outstanding design.  As part of our awards program we host our People's Choice Awards and let you, the public vote on your favorite projects.
Scroll through the projects below and then CLICK HERE to vote for your favorites.
Voting ends at noon on Monday, October 22nd.
ADAPTIVE REUSE
The Hall's Pizza Kitchen
Architect: Troy D. Rhodes & Company, Inc.
   
Photography By: Brandon Snider Photography
Wood fired pizza: a tradition that began in the Hall's family home that transformed and evolved to a pizza truck and now to a brick and mortar location. The Hall's aspired to combine their love for people and family with their passion for pizza setting their eyes on a building located in the Midtown District in Oklahoma City. This building, originally housing a tire warehouse and automotive shop and utilized by various businesses for years, sat empty in disrepair for the past several decades. The goal was to integrate many of the building's original 1920's details into the new design while also modernizing the space for a restaurant. Honoring the history of the building, original steel beams are left in place as well as exposed brick and clay tile which set the backdrop for the updated, custom-designed restaurant elements. The interiors incorporate classic finishes that reflect the time period of the building while unexpected elements are introduced to create a crafted space that combines both old and new. The second-floor mezzanine is designed to allow access to the Rooftop Terrace. The terrace, with its covered canopy and ambient lighting, creates an energetic atmosphere that overlooks the downtown Oklahoma City skyline.
21c Museum Hotel
Architect: Hornbeek Blatt Architects (with Deborah Berke Partners)
   
Photography By Mike Schwartz
The project is an adaptive reuse of the historic Ford Motor Company Assembly Plant, originally built by Henry Ford, and is a contemporary interpretation of the building's industrial heritage. Located at 900 W Main Street on the West End of downtown Oklahoma City and at the west end of "Film Row," the 21c Museum Hotel Oklahoma City is a 135-room boutique hotel with "loft-like" accommodations. The Hotel fills 180,000 square feet of the 200,000 square foot original manufacturing plant and includes a contemporary art museum and Mary Eddy's Kitchen and Lounge. The 21c Museum Hotel offers 14,000 square feet of a new cultural civic center and contemporary art exhibition space open free of charge to the public.  The property's museum space doubles as event and meeting space, and can accommodate a wide variety of activities from board retreats and intimate cocktail parties, to a reception-style wedding for 500.  The unique circular Main Gallery, and adjoining Gallery 1, is a nimble event space, with sound attenuation drapery, movable partitions and a private full-service bar.  There is an additional 20,000 square feet of lease space that is fully occupied. The design team of Hornbeek Blatt Architects of Edmond, OK (Executive Architect) – and Deborah Berke Partners (New York based Design and Interiors Architect) sought to create a contemporary interpretation of the building's original/functional form – integrating elements of the automotive and assembly plant legacy throughout.  The design takes full advantage of the scale of the original manufacturing spaces that are open, light-filled, and now sculpturally expressive and synonymous with a contemporary art museum.
Library Service Center
Architect: REES
    
Photography By: Joseph Mills Photography
When the University of Oklahoma decided to transform Lower Level 2 at Bizzell Memorial Library, they realized it would displace three library departments. So, they put a plan in place. An old call center near campus would be renovated to provide office space for the departments and plenty of room for storage.  The original call center had a large warehouse component dotted by aluminum power poles. We removed those poles, updated lighting, carpet and data capabilities and set up fixed book storage in the middle of the layout. The central location makes it easy for everyone to get to and provides an interesting backdrop for the open office areas surrounding it on two sides.  The modern office space kept most of the call center's original office space layout but received a major update. Our team used furniture layouts and architectural details to identify the different spaces within the open office. Lighting, wall coverings, furniture and bright accent colors hearken back to the renovations already completed at Bizzell, making the space seem like more of an extension of the main library.
8th Street Market
Architect: Allford Hall Monaghan Morris
   
Photography By: Timothy Soar
The 8th Street Market takes an underutilised warehouse building in downtown Oklahoma City and reinvents it as flexible space for restaurants, retail, and brewery space and taproom for Prairie Artisan Ales. The building sits on a site that slopes steeply to the bordering railway tracks, limiting the accessible street frontage. As a reaction to this—and the changing focus of the neighbourhood—a new entrance is cut into the east elevation, linking the existing parking lot to a new internal 'street' of common area. This street feeds into the units, and is enlivened by them, with restaurant and bar seating areas meeting at the heart of the building. Natural light is introduced into the space by the inclusion of a large north-facing rooflight, and the restoration of existing skylights. The street is announced on the façade on both sides of the building, with the new planted entrance portal to the east, and a similar pergola structure on the west creating cover to a raised patio; both ends have large glazed garage doors that can be opened in suitable weather to blur the distinction between inside and outside.
OCCC Capitol Hill Center
Architect: FSB Architects & Engineers
   
Photography By: McNeese
Oklahoma City Community College's Capitol Hill Center reaches out to a socio-economic class that may not otherwise be exposed to educational opportunities beyond secondary education and, in a welcoming community setting, introduces them to the opportunities that advanced education can bring. In order to continue building strong community relationships, the Capitol Hill Center needed a permanent home.  In Capitol Hill's once thriving commercial district, the Center now occupies two adjacent buildings; one was previously a Katz drug store and the other a three-story department store. The design weaves the two buildings with dissimilar floor elevations into one holistic, integrated design that pays respect to the original character of the buildings while making a unique statement for OCCC. With input from OCCC and the community, the final design included creative, flexible educational environments and large multi-purpose spaces. The facility also provides space available to the community for evening and cultural activities, including a rooftop plaza.  The Capitol Hill Center is helping to revitalize the area. In fact, the Cine Latino Film Festival returned to the district this year using the Center's community room. The Vice President for Community Development says "the Center has empowered the community at so many levels."
Oakland Flats
Architect: SDG Architects
  
Photography By: Jonathan Burkhart
This unique multi-family residential project, located in rural Oklahoma, was funded with a Historic Preservation Tax Credit and Low-Income Housing Tax Credit. The project team restored and repurposed the 1930 schoolhouse to become four 1-bedroom rental flats, plus a community room. The original building was carefully reworked to highlight historic architectural elements while adding modern amenities, such as indoor plumbing and HVAC.  The wooden stage, historic stage lighting, and iconic proscenium arch in the center of the building were restored to provide space for small community gatherings. Painstaking care was given to refinishing the beautiful steel windows, historic brick and stonework throughout the building. The refinished windows were fitted with individual thermal-insulated lites for energy efficiency, and new window hardware was custom designed to meet bedroom egress requirements, while still providing security. Chalkboard paint on the entry wall of each unit calls attention to the original schoolhouse chalkboard locations.  The final product is one which pays homage to the historic significance of the building while still incorporating the safe, durable, and modern design elements required in affordable housing.
OPUBCO / The Oklahoman
Architect: Butzer Gardner Architects
    
Photography By: Timothy Hursley
The Oklahoman Building reincarnates the former Century Center, a shell that represented the dashed hopes of a poorly-designed Urban Renewal-era introverted shopping mall. The sale of Oklahoma's largest newspaper in 2011 precipitated its ownership's decision to move to the most important intersection in downtown Oklahoma City.  The former two-story internal mall is sandwiched between two levels of parking above and below grade. Its three precast concrete panel facades were originally held 30 feet back from the street, alienating pedestrians and signaling a pre-occupation with seismic loads. At its core was a dark two story space from which occupants accessed mall tenants.  The new design strips the concrete façade in favor of a light-weight steel exoskeleton and diaphanous skin that brings the structure closer to the street, and heralds a literal and metaphorical transparency for the role of the press. Street life is invited into the now brightly illuminated double-height pressroom, while restaurants at the northern and southern edges reestablish an urban dialogue. The 100+ year history of the paper is celebrated in the pressroom by some of its most memorable headlines. Today, the most important story is the closure of 50 years of urban flight and the declaration of The Oklahoman's resurgence.
HISTORIC PRESERVATION
Citizens Bank of Edmond
Architect: Hornbeek Blatt Architects
    
Photography By: Brandon Snider
The project is an adaptive re-use of a bank originally built and completed in 1968. The interior had gone through a metamorphosis that included several major interior renovations. Different leaders over the past 50 years had imposed their personal taste on each remodel and transformed what was once a modern architectural award winner into a very generic and traditional interior, chopping up the floor plan with opaque walls covered with oak paneling and trim.  With the bank now shifting to younger leadership and current millennial customers doing the majority of their banking now on-line, a new institutional vision was requested for the bank interior and lobby. An expansion into an older jewelry building directly north was included where an existing "pressed tin" ceiling was incorporated into the design solution. Teller lines with fixed locations in the 1968 contemporary building were replaced with pods that can be addressed from all directions. Glass enclosed cubicles provide visual control, of customers in the lobby. A new entry vestibule can be cordoned off at night with a pull down door, concealed during normal operating hours, and becomes a 24 hour customer service area with night deposit drops and ATMs after hours of regular operation.
Sunshine Laundry Cleaners
Architect: Gardner Architects
   
Photography By: Tim Hursley
The Sunshine Laundry Building is an existing Art Deco industrial building which has stood vacant for nearly fifty years. The building has integrity of location and setting. It is situated in a warehouse/industrial area along North Classen Boulevard in Oklahoma City, a street that maintains its characteristic as a main thoroughfare for the city. The design intention of the project was to rehabilitate the existing building, and provide a simple and industrial interior, true to the building's origin, for various tenants to occupy. The restoration of the exterior shell brought the original character of the building back to life, and the repair of the existing neon sign provided a renewed identity for the building. A brewery and tap room tenant was an excellent fit for the large portion of existing space in the building. The central space accommodated the large fermentation tanks, and by painting the ceiling and structure and restoring the roof monitor, the perception of volume increased. Located in the old drive thru, the Tap Room utilizes existing interior finishes and filled in the drive through openings with flexible glazing systems to provide seamless outdoor patio access. The second floor office space was programmed to have open and private offices, with transparent divisions for views to the exterior and the brewery below. The balance of the first floor is slated to become a restaurant.
LARGE COMMERCIAL ARCHITECTURE
Dunham & Headington Residential Colleges
Architect: ADG, P.C.
   
Photography By: Richard Kirschner, AIA (image 1) Simon Hurst Photography (image 2)
Utilizing the "residential college" model, ADG partnered with higher education design experts KWK Architects, to design the first residential colleges in the state at the University of Oklahoma. Dunham and Headington Colleges opened for the 2017 fall semester with 600 upperclassmen (300 students in each college). The $82 million project is designed as a living/learning campus to provide students with a sense of community and identity within the larger university. Taking cues from the residential colleges at Yale and Oxford, each building features a faculty master apartment and offices, dormitories, seminar/conference rooms, lounges, study areas and libraries. The residential colleges are joined via communal dining areas.  The architectural design of the residential colleges was influenced by the Cherokee Gothic architectural style featured prominently throughout campus.  Each college offers three categories of spaces: living, learning and fellowship. The design embodies the spirit and community of each college. The residential floors offer a wide variety of room types that are enticing for freshman as well as upperclassmen. The attraction of a diverse, connected community has positively impacted recruitment—one of the key design goals—and the built-in opportunities for engagement have strengthened the attention on building communities of scholars and citizens.
Oklahoma Police and Municipal Courts Complex
Architect: ADG, P.C.
   
Photography By: Simon Hurst Photography
The City of Oklahoma City wanted a new police headquarters and municipal courts complex to replace the building that had served both agencies for decades. The City's goal was to create buildings that would maximize efficiency and collaboration while showcasing a philosophy of open and honest public service via transparent building elements. The existing police headquarters and courts building had become obsolete and would have been too costly to renovate so the decision was made to create two new buildings and after those were occupied to demolish the circa 1950s building and create a landscaped parking area.  The new police and courts complex is built to last. Durable materials and finishes make sure that it serves the city well into the future. The 65,000-square-foot Municipal Courts Building contains six courtrooms, payment windows and offices on three floors. The 88,000-square-foot Police Headquarters has three floors for all departments with ample space for interview rooms, records and even a community conference space. Building façades are designed to respect and reflect the Art Deco design elements of the its neighborhood; the civic center district is rich in WPA-era buildings constructed in the 1930s. Blonde, black and red brick, as well as tan calcium silicate masonry units resembling limestone, clad the four quadrants of each building.
Southern Plaza – Assisted Living and Memory Care Addition
Architect: Troy D. Rhodes & Company, Inc.
   
Photography By: Brandon Snider Photography
Southern Plaza Retirement Community is located in Bethany, Oklahoma, and was originally established in 1999 as an Independent Living complex. This project completed a major expansion of the existing building to further include Assisted Living and Memory Care services. With this addition, Southern Plaza Retirement Community is a Continuing Care Retirement Community facility and offers a full range of services and levels of care for its residents.  The new addition includes three stories of Assisted Living, one story of Memory Care, an underground parking garage, and a 4-story FEMA tornado/storm shelter. The overall facility includes 113,861 square feet of Independent Living, 63,510 square feet of Assisted Living, and 17,642 square feet of Memory Care. The overall area consists of 218,424 square feet.  A study was conducted in the surrounding area and it was determined that Southern Plaza should maximize the number of available Assisted Living units, as well as Memory Care units. As the architectural program requirements grew on a relatively small site footprint, it was clearly evident a multi-story building along with a subsurface parking garage would be necessitated. The existing Independent Living site only had the code minimum of 92 parking spaces. The new expansion provides 15 surface parking spaces with 44 spaces located in the Garage.
Celebration Church
Architect: Small Architects & SPACE
    
Photography By: Jonathan Meisner
Located in Georgetown, Texas (about 30 minutes north of Austin), Celebration Church was holding services and functions out of its existing 37,000 SF facility located on over 100 acres of property near the I-35 corridor. Their increasing attendance and ministry required a new facility of approximately 90,000 SF in size that would accommodate a multi-purpose multi-media auditorium seating 2,500 with supporting Children's Classroom Department and a large connecting "commons" Lobby space. The project site is at the highest point along I-35 between Austin and the gulf coast. Therefore, the design solution located the building on the top of the hill and surrounded it with a circular parking layout ("You are the light of the world. A city set on a hill cannot be hidden." – Matthew 5:14). Considering the region in which the project exists, various design components were included such as local Lueder's limestone and extensive canopies & awnings to control the hot Texas sun. Plan organization was configured to maximize control and flow of large crowds, with as many as 5,000 people crossing paths through the main Lobby space. The provided design solution has elevated the worship experience for the congregation and has become a community landmark.
Choctaw Nation Tribal Headquarters
Architect: FSB Architects & Planners
   
Photography By: Simon Hurst Photography
Tired of being cramped inside aging buildings and scattered across leased offices around Durant, leaders of Oklahoma's Choctaw Nation decided it was time to invest in a new headquarters complex to accommodate the Nation's rapid growth. The goals included showcasing the Choctaws' achievements and heritage, consolidating tribal services for its more than 80,000 members into one convenient, easily accessible location and providing a home for approximately 900 employees.  The new headquarters houses tribal government officials along with more than two dozen key departments and a wide variety of Choctaw programs. The five-story building features two office wings, designed to be adaptable and expandable with movable walls for maximum flexibility, connected to a central core. Visitors entering through the front doors step into the light and welcoming two story main lobby, which features golden wood tones, floor-to-ceiling windows, a ceiling-mounted Choctaw Nation seal and a water feature representing the tribe's historical journeys.  The facility incorporates cultural displays throughout, along with a lobby area, gift shop, offices, conference areas, break rooms and restrooms. The materials, patterns and colors chosen all allude to the tribe's rich history. The site was landscaped with native plants and grasses, and features a pond and walking trails.
Heartland Middle School
Architect: FSB Architects & Engineers
   
Photography By: Keith Rinearson, PhotoArt
Located in the growing school district of Edmond Public Schools, Heartland Middle School was designed to be the next generation learning environment and serve as a model for future middle schools. The design creates an empowering environment that allows students to learn the essential academic, teamwork and collaboration skills they will need to succeed in school, their careers and in life.  At the crossroads of the school's pedestrian flow is the Learning Forum. This central hub connects a two-story atrium with tiered, stadium-style seating and provides an open learning venue with a multimedia presentation wall. When not active as an educational space, the Forum is a center for social interaction. Every learning space is designed to be a smart classroom. Most classrooms contain rotating partitions with white boards or pegboards which can be turned to face the main commons area, providing additional interactive learning opportunities. The school's creative departments are supported by a central drama room which connects to both an outdoor amphitheater and an indoor stage. This area also features a space with 3D printers that are adjacent to computer programming and interactive technology labs. Partially open ceilings with labelled pipes allow students to learn about the building's systems.
Boeing Global Services
Architect: Guernsey
    
Photography By: Mel Willis
Located in a premier business district in rapidly growing Plano, Texas, the team was asked to create a cutting edge, efficient workspace that would be the new headquarters for Boeing Global Services.  The design team worked on a fast track schedule to design this 20,000-square-foot office space in under eight weeks in two phases.  Construction is also currently fast tracked to be completed in under seven weeks for a July 1st occupancy date.  The facility will include 26 private offices created using a flexible demountable wall system that gives opportunity to the team to reconfigure quickly as their business changes and grows.  Open office cubicle spaces and 4 cutting edge video conferencing rooms create a virtual experience that can reach any location around the world.   The light-filled rotunda was the focal point of the design featuring a turbine inspired ceiling feature and a high volume- low speed fan that will gain HVAC efficiencies in this space.  The rotunda also features collaboration spaces and a kitchenette suited for gatherings.
Gulfport Energy Corporation
Architect: RBA Architects
   
Photography By: Bob Ederer
6-Story, corporate headquarters for an Oklahoma based oil and gas company. The project was designed to bring all of the company's departments together for the first time due to high-growth. The project has a full parking level below the building and includes staff amenities such as a full restaurant, coffee café, auditorium, and fitness center.   The design gives you a snapshot of the company's image – a technology based energy company, with an emphasis on conservative, environmentally friendly operations, and an energetic, contemporary approach to exploration, geology, and engineering. The tower on the Southeast corner features LED lighting – illuminating exposed structural "X" bracing, symbolizing the lighted oil and gas wells that dot the Oklahoma prairie. The base of the building emerges from the ground with natural stone, yielding to an aluminum panel and blue-glass façade – emphasizing the dynamic image of the company, but recognizing their product is generated from the earth. The building is designed to be LEED compliant, with geothermal heat and air and extensive recycled and renewable materials.
MEDIUM COMMERCIAL ARCHITECTURE
Hearts for Hearing
Architect: Bockus Payne Architecture
   
Photography By: Randy Alvarado
Hearts for Hearing is a renowned non-profit that provides cutting-edge cochlear implants and auditory-verbal therapy for children and adults, as well as research that directs hearing health across the globe.  Bockus Payne was engaged to design the new home for Hearts for Hearing after years of leasing space that didn't accommodate their needs. The firm worked closely with the client to ensure that each decision made during the design process upheld their goals.  A circular theme developed from their logo is a play-off sound waves, creating a soft, playful, and whimsical aesthetic. It symbolizes new life and is carried throughout the facility. Soft curves, ripples, and arcs tie the interior into a cohesive, branded environment.  Given the extremely sensitive nature of auditory-verbal therapies, a unique challenge for Hearts for Hearing was protecting their clients from extra noise, like the highway directly East of the building. Sound mitigation techniques were used throughout the design, from space planning to site planning to MEP.
MAPS 3 Senior Health & Wellness Center No. 1
Architect: GSB, Inc.
   
Photography By: Kerry Azzarello (image 1) and Simon Hurst Photography (image 2)
The MAPS 3 Senior Health & Wellness Center No. 1 promotes healthy active lifestyles, social interaction, and overall quality of life for Oklahoma City residents 50 years and older. The project includes a mix of fitness facilities, casual social spaces, and multipurpose rooms to support a wide variety of group activities, educational programs and other events.  The main lobby and lounge serves as a welcome center and social hub, and features a small cafe. One wing contains the fitness spaces, including a 75-foot hybrid fitness pool, gymnasium, fitness center, and aerobics studio, as well as secondary social interaction areas. The other wing contains numerous multipurpose meeting rooms of various sizes, private consultation rooms, a demonstration kitchen, and an arts and crafts studio. Care was taken to place windows in locations that provide daylight while limiting glare and heat gain.  The design includes generous corridors and clearances, additional (and oversized) restrooms, higher lighting levels, acoustic enhancements, extra seating opportunities, privacy features, and enhanced accessibility measures. Similar accommodations were made outside the building, including higher lighting levels in the parking lot, a curb-less parking lot design, extra handicapped parking spaces, a covered porte cochere, and limited travel distance to the main entrance.
KFOR Channel 4 Headquarters
Architect: REES
     
Photography By: Joseph Mills Photography
KFOR Channel 4 in Oklahoma City was constrained by the technical and physical limitations of their headquarters. Built in 1952, KFOR needed to upgrade into a space that would accommodate operations for today's 24–hour news cycle.  The new facility's design includes collaborative work spaces and upgraded technical and production areas. Their new studio configuration allows the voluminous open-plan newsroom to serve as the backdrop to the news desk – a visual indicator to the 24/7 "hustle" of their industry. The design also anticipated the opportunity to shoot segments throughout the rest of the building.  Staff comfort and safety were key issues for the new design. We designed a large, modern breakroom as well as an outdoor kitchen for staff use. And since employees are often required to be on–site during coverage of severe weather, our team designed a building that will be able to withstand tornado season and keep staff safe while they work through the storm.  Exterior brick from the original building serves as a feature wall and many commemorative elements, including the original studio doors and a photo mural in the reception area, pay homage to the station's long history.
Bob Moore Campus
Architect: Allford Hall Monaghan Morris
     
Photography By: Timothy Soar
The new headquarters for Bob Moore Auto Group reinvents the firm's existing Collision Center to be the first element in a unified campus. Built in 1951, the single-story brick-clad structure has been previously extended and remodeled; the latest interventions see the building pared back, opened up and extended upwards to create a modern working environment, revitalizing the corner site and the piece of city in which it sits. The design strategy capitalizes on the existing long-span of the original structure to create flexible open-plan office, and supplements it with a new second floor, lending prominence to the east facade facing Shartel Avenue and signaling the entrance to the building. New planting and landscaping on the site will extend to adjacent lots, while new internal courtyards bring natural light deep into the building and create additional landscaped areas for building users to enjoy.
Capitol Hill Library
Architect: Guernsey
   
Photography By: Mel Willis
Guernsey served as the Architect of Record for the complete renovation and expansion of the Capitol Hill Library. The site was redesigned and the entrance was relocated to provide improved parking and make the facility more welcoming and accessible to the neighborhood. The library's renovation and expansion design was inspired by an event that took place on the site in 1910 – the flight of the first airplane in Oklahoma. Throughout the library there are nods to aviation, from light fixtures that echo airplanes, to columns wrapped with images of turbines, to flowing window accents representing jet streams.  The facility was stripped down to the existing concrete structure receive necessary upgrades as well as to make room for the new addition which houses state-of-the-art library functions including a digital collection, the existing stacks, administrative and support functions.  The library features space for teenagers that includes a study area, computers, and booths; a fenced-in outdoor patio for children; 27 adult computers; and twenty iPads available for check-out. The library is also home to 3,000 Spanish-language books which is one-third of the entire system's Spanish-language collection.
CARSR Training Center
Architect: LWPB Architecture
   
Photography By: Chris Bunal (image 1) and Joseph Mills Photography (image 2) 
The design team was tasked with creating a new Common Air Route Surveillance Radar (CARSR) Training Center for the FAA Academy, Mike Monroney Aeronautical Center.  Existing facilities did not provide sufficient space for proper training.  Coupled with equipment noise levels that were so loud that hands on equipment interaction couldn't take place and instruction was conducted away from equipment.  Originally envisioned by the FAA as a basic metal building to match the existing facilities, the designer chose to create a world class vision for the new and future training centers. The floor plan is inspired by the shape of the radar antennae for which the facility will train future technicians how to maintain and repair.  The arc of the plan is intentionally placed to symbolically embrace the main campus to the east. This facility will provide training for approximately 250 radar technicians from around the world annually.  The project includes a tornado shelter to house the full anticipated occupant load of the facility.  To meet the sustainability goals, the building is designed to meet FAA Order 1053.1B Energy and Water Management Program and Federal High Performance & Sustainable Buildings Guidance including a high performance building envelope and geothermal HVAC system.
Immy
Architect: The McKinney Partnership Architects
      
Photography By: Travis Pawley, AIA (image 1) and Simon Hurst Photography (image 2)
IMMY, short for ImmunoMycologics, is in the business of saving lives, through the development of medical diagnostics that they design, produce, and ship to clinics and hospitals around the world. As a quickly growing company, they needed a new headquarters to bring all of their departments under one roof. The wanted a modern facility that could streamline their processes, while encouraging collaboration among all of the distinct departments. The new facility does exactly that, by providing a striking building that improves efficiency and collaboration in an inspiring and sustainable structure.  The exterior design evokes the ideas of flight and reaching upward. These concepts were taken from the buildings location adjacent to Max Westheimer Airport and the idea of flight, as well as the uplifting work that is done within the space. On the interior, the spaces revolve around central shared spaces that are utilized by all departments. The consolidation of these spaces improves efficiency and encourages interaction among employees. Elements such as the grass-pave fire lanes, xeriscaping, highly insulated materials, and the company bike share program improve the project's sustainability. Overall, this new streamlined facility helps IMMY grow their mission of Saving Lives One Diagnostic At A Time.
SMALL COMMERCIAL ARCHITECTURE
Kwan's Kitchen
Architect: Elliott Architects
   
Photography By: Brand Imaging
The concept for Kwan's Kitchen was to create a unique, dramatic dining paradise with the mystique of an ancient oriental town square inside and a distinctive architecture outside. Collective elements from the splendid culture and long history of China are joined within contemporary design.  Modeled after ancient Chinese fortresses, the building represents a gateway where classic eastern and modern western architecture form a grand building image.  A water curtain greets guests and cleans their visual palette before welcoming them to the world within. The space expands and lights up at the grand atrium, with Moon Gates functioning as passageways and decorative picture frames.  A glass Koi pond, with water flowing from the ceiling above, signifies a treasure collecting basin – and for adventurous guests allows the exciting experience of standing right over the fish.  The atrium is surrounded by dining halls, resembling street-side cafes, turning indoors into outdoors – creating buildings within a building.  The warm interior colors represent harvest, abundance, and prosperity. Neutral browns wooden elements are the background color, adding elegance and tranquility to the scene.  Decorative elements add rich layers of historical and cultural significance to elevate the class and sophistication of Kwan's Kitchen.
RESIDENTIAL ARCHITECTURE
Stringer Residence
Architect: GSB, Inc.
   
Photography By: Simon Hurst Photography
This major renovation transformed the client's 1980s red brick ranch-style house into a light, open-living environment home, perched above a fairway on an OKC golf course, yet reminiscent of the homeowner's time in Palm Springs.  The new modern arrival experience features custom entry gates and privacy screen walls that open to a private and serene courtyard delivering unobstructed views through the house to the golf course beyond.  Originally an uninspired arrangement of mostly small dark rooms, the interior was opened up and simplified into light-filled spaces with white finishes and tile flooring throughout. Modern furnishings and colorful accents fill the spaces.  Every room takes full advantage of the views to its desirable surroundings with full height and width windows and doors. An elevated infinity edge lap pool on the back terrace further blurs the line between the house and the fairway beyond. Total privacy from neighbors is maintained with thoughtfully placed masonry and wood screen walls as well as lush landscaping.  The new interior feels very expansive yet cozy due to the finishes, Modern fireplaces, minimalist cabinetry, windows and architecturally controlled daylight transforming this 80s house to a mid-century inspired residence exceeding the client's expectations.
Grand Lake Poolhouse
Architect: Allford Hall Monaghan Morris
   
Photography By: Timothy Soar
The Grand Lake Poolhouse comprises a pair of lakeside pavilions containing a pool and spa in north-eastern Oklahoma, overlooking Grand Lake O' the Cherokees. An existing clearing in the tree-lined hill is cut into with a single-story volume running parallel to the lake. A smaller volume is placed perpendicular to it, set slightly apart from its companion volume to capture a patio at the meeting point of the two axes. An L-shaped roof plane connects all internal and external space, creating a consistent datum that references the lake's horizontality. To preserve views across the site and enhance swimmers' views from within, the longer glazed pavilion is embedded in the undulating landscape, while the smaller pavilion – containing massage and wash rooms – offers a counterpart to its more visually open neighbor with its intimate proportions and protective charred timber cladding. Together, the two volumes read as a distinct but unified pair; a discreet addition to the broader landscape.
Mosaic
Architect: Allford Hall Monaghan Morris
   
Photography By: Timothy Soar
As a building with neither a front nor back, the project unites use and activity into its sides, roof and middle. A longitudinal cut through a six-story volume opens up a central courtyard to increase views to downtown OKC and create a neighbourhood-engaging spine. Externally, elevations take on different characters to respond to context; the northern face reflects the vertical orientation of the brownstones opposite, whilst the horizontal banding and 'punched' balconies of the south nod to the 2nd Street Lofts across the road and the Great Plains landscape further afield. A custom-mixed integral sand and cement stucco with mica chips clads the upper levels, its reflective qualities making the building glint as the sun moves or as a pedestrian wanders past. Internally, the top four levels comprise a flexible mix of 97 one and two-bedroom apartments sitting atop a two-level podium of parking and more than 1,100 square feet of retail space.
Squirrel Park
Architect: Allford Hall Monaghan Morris
   
Photography By: Timothy Soar
Responding in a sensitive and sustainable way to Oklahoma City's imperative to increase density in existing residential neighborhoods, Squirrel Park makes innovative use of modified shipping containers to create four single-family homes.  The unconventional interior layout contrasts with the modern, industrial exterior aesthetic. The design reinterprets the components of a traditional neighborhood street on a smaller scale, encouraging outdoor living and interaction. The unique nature of the site as a park-like environment is enhanced through retention of existing mature trees, provision of shared outdoor spaces and new planting to assist energy efficiency and biodiversity.
Dewey Residence
Architect: Gardner Architects
   
Photography By: Tim Hursley
In downtown Oklahoma City, the Dewey Residence is an expression of balance and movement. The home's form allows programmatic functions to shift and pull as needed while one moves upward from the public street-side transition space to the private quarters of the uppermost levels. The client's program and desire for security and privacy in a dense environment lent to an approach that emphasized the transitional elements between distinct uses. An entry court nestled beneath the second floor mass is the initial public-private transition space that leads to the front door and main stair. As the stair rises, it subtly divides the dining and living areas. The second level is the hub of activity for the family and is separated from the bedrooms located on the highest level. Balance is expressed in the placement of the stove and hearth as focal points at each end of the space. In this living space and throughout the home, white surfaces are humbled by the natural tones of the wood floors and contrasted with dark, charred timber elements. Unobstructed volumes created by the unique structural design further provide openness for the rhythm of everyday life. Large expanses of glass and full-height operable panels at the rooftop terrace allow for activity to flow seamlessly between interior and exterior areas. Smaller windows are meticulously placed to frame specific views of the urban context. As a contemporary urban townhouse, the Dewey Residence contributes to its context while providing a uniquely warm and private home.
Glenwood Residence
Architect: Gardner Architects
   
Photography By: Stout Media
This 1948 art deco home had fallen victim to years of neglect and failed renovations when finally purchased in 2014 by the Jones family. The large lot is located on a prominent corner in Nichols Hills, Oklahoma. The unique site, low volume, and unadulterated white façade provide contrast in a neighborhood marked by gabled roofs and decorative details.  It was a challenging task to turn this home with good bones into a beautiful and functioning residence. The primary objective of this renovation was to reorganize an introverted interior by introducing new visual and physical connections. Public and private outdoor areas were also reimagined to give meaning and vibrance to previously neglected spaces.  The existing living spaces were divided into small rooms with beige concrete block walls and little natural light. Previously enclosed windows were opened, and the iconic long horizontal windows were restored in the main circulatory transition space. The interior walls were refinished to homogenize and soften the harsh texture of the concrete block. The pale walls throughout serve as a backdrop for the family's impressive collection of commissioned art and elaborate furnishings. New wood floors replaced ceramic tile throughout to bring much needed warmth to the home. Warm wood tones contribute to the space through custom high-end millwork and furniture pieces all designed by the architect. The clean and warm aesthetic fosters a balanced interior contributing to a timeless atmosphere sought by the Jones family.
Abbeywood Residence
Architect: Butzer Gardner Architects
   
Photography By: Tim Hursley
In an unassuming neighborhood, Abbeywood Residence proves that there is usually more than meets the eye. The main design problem proposed by the client was maintaining a balance of openness and privacy. From the street, visitors are met with a fortitude of masonry. Aside from glazing at the entry and a corner study window, the front façade is entirely composed of dark gray brick. Behind a projecting brick feature wall, guests are welcomed with hidden full height windows; a contrast of open and solid. Even though most exterior walls have limited openings, transparency and openness between spaces in manifested in an introverted way once you enter the home. Focus in every room is directed toward the backyard that was positioned as a central courtyard. Exhaustive sightline exercises were performed during the initial project planning phase to assure privacy from adjoining properties. For this reason, the backyard was relocated to the center of the home with no visual access from outside the property.  There are no walls between the living, dining, and kitchen areas, but custom millwork pieces designed by the architect subtly divide the various uses. The owners desired their new home to have a space for everything without dividing space into closets.
Wilkes Residence
SDG Architects
   
Photography By: Jonathan Burkhart
Larry and Mary Ann Wilkes asked us to design a custom home on their property overlooking Lake Ardmore. They desired wide, open views to the exterior, privacy from nearby neighbors, and a southern low-country aesthetic. The design would also need to provide plenty of space for their large collections and incorporate features that would allow them to age in place. Our solution was a two-story, two-bedroom home with an elevator, with both bedrooms and the main living spaces located at the rear. The layout allowed us to take advantage of the stunning lake views with wall-to-wall six-foot-high windows along the west façade.  The interior was designed around the couple's unique collections and daily activities.  Built-in cabinets display their expansive collection of china, art, and artifacts. The soft color palette of grays and blues reflects the tranquil surroundings of the lake, while allowing their colorful art collection to shine. We utilized Universal Design Standards, including lever handles, 34″ interior doors, and large clearances at appliances. The final home design meets the couple's current needs while providing a comfortable, relaxing space in which to age in place.
Urban Cabin
Architect: Fitzsimmons Architects
   
Photography By: Joseph Mills Photography
The Urban Cabin was designed for a couple with passions for local art and cooking.  The design of the home reconciles the homeowners' desire to be part of the urban lifestyle within a single-family enclave of downtown Oklahoma City with their love of the idea of a cozy cabin in the mountains of Colorado.  Using warm and rustic materials in a refined pallet of rust wall panel cladding, buff brick veneer, weathered steel bar grate, horizontal cedar siding, and natural finished woods, the home becomes a mountain retreat atop its elevated urban site, with expansive downtown views replacing mountain views.
Urban Beach House
Architect: Fitzsimmons Architects
   
Photography By: Joseph Mills Photography
The Urban Beach House is a live/work residence in a re-developing single-family neighborhood located in downtown Oklahoma City. This site is unique in its steep incline from street to building pad, which allows for both an elegant approach up to the house and an opportunity to capture an expansive view of the downtown skyline.
INTERIOR ARCHITECTURE
ADG Offices
Architect: ADG, P.C.
   
Photography: Simon Hurst Photography
ADG moved into the historic former auto factory opened by Henry Ford in 1916 as one of his Model-T assembly plants. The 12,000-square-foot office provides work and meeting space for the growing A/E/C firm.  ADG was allowed to repurpose items slated for demolition, some of which are featured as found art objects. The pièce de résistance is a huge red boiler in the lobby that anchors the custom wood and steel reception desk. Three pavilions—aligned like train cars to reflect the importance of rail to the auto business— house office, meeting and print rooms. They create a dramatic wood slat wall that separates the office lobby from the studio beyond. The wood slats evoke the wooden crates filled with car parts manufactured in the former plant. The firm's new logo has been cut in 10-foot-high rusted steel panels that punctuate the wall.  Employees in the open studio enjoy abundant daylight via large energy-efficient windows. The factory's original steel-window frames were salvaged and repurposed as interior office window walls, some are even still operable. Punctuating the studio, 15-foot-tall exposed (but sealed!) concrete columns reveal the industrial history of the place with their layers of original peeling paint.
Woodward City Hall Complex
Architect: Troy D. Rhodes & Company
   
Photography By: Joseph Mills Photography
Various departments for the City of Woodward were scattered across several buildings in Woodward, Oklahoma. Our firm was asked to design a centralized location that would house all city functions allowing for a more efficient use of personnel and space. The goal was also to create a modern, eye-catching building interior that would put Woodward "on the map" and attract more business for the City. This significant interior renovation project infused new life into two aging buildings adjacent on the city's Main Street by bringing vehicular and pedestrian traffic to downtown Woodward.  The primary structure, previously utilized as a bank, is now designed with a beautiful public lobby, reception areas, service counters for building permits and city code compliance, space for city records, management and finance offices, as well as additional space for technology offices and utility payments. The addition of an elevator within the main lobby allows for full building accessibility. The secondary building, originally the small town's movie theater, is now renovated to house a Courtroom, Judge's Chambers, offices for city officials, and a public lobby. Contemporary lighting, finishes, and furniture create a sophisticated, corporate environment for city business.
Azalon Hair Studio & Boutique
Architect: Troy D. Rhodes & Company
   
Photography By: Brandon Snider Photography
The Owner of Azalon Hair Studio and Boutique desired a relocation to accommodate their growing clientele, as well as expand their services to include a boutique style shopping area and space for an esthetician room. The vision was to create a cutting edge salon in Yukon, Oklahoma. The building chosen was an empty shell which posed to be a design challenge to house all the needed features desired for the space. Through the use of transitioning ceiling heights, lighting, and carefully chosen materials, the 2,945 square foot empty area was transformed to accommodate 16 stylist stations, a shampoo and dry station, a color bar, a boutique, and zones for hospitality. Each area of the salon flows seamlessly together while maintaining its distinct function and personality. The new location allowed for them to triple their square footage and customize it to fit their needs. The interior has a high contrast color palette with industrial and warm accents. The transformation of this space establishes a luxurious environment for their clients by creating both a fulfilling salon experience as well as a quaint shopping excursion.
Saxum
Architect: HSE Architects
    
Photography By: Joseph Mills Photography
Saxum occupies the fifth and sixth floor penthouse of The Heritage, formerly the Journal Record Building, overlooking The Oklahoma City National Memorial. Once a rooftop, the newly added penthouse serves as the main entrance. This floor offers expansive 360-degree views including downtown, state Capitol, American Indian Cultural Center site, Innovation District, Midtown District and Automobile Alley. The overall space has a strong rectilinear design accentuated by raw steel and wood finishes. The layout embraces Saxum's mobile and untethered work style offering a variety of unique nooks, flexible work lounges and meeting spaces. It serves as a public area that staff can use as a secondary location to accomplish work. The most prominent feature is five striking, 12-feet long polycarbonate and glass light boxes. They were designed to cover existing openings made in the concrete slab. Each light box represents Saxum's core values: Brave, Original, Lively, Driven and Bold. They provide multiple uses as a work surface, sound barrier, light source and visual connectivity between the two floors. An additional notable feature is the steel-clad walls with hidden doors. This design element identifies the CEO's private meeting room and office.
Hatch Early Mood Food- Chisholm Creek
Architect: Fitzsimmons Architects
   
Photography By: Joseph Mills Photography
Built within a non-descript mixed-use suburban development, Hatch Early Mood Food's directive was to create a vibrant, unique space that would engage customers and, along with fabulous breakfast and brunch food, would bring those customers back again and again.  Usable space was maximized by introducing a mezzanine with dining and storage areas. The full-service bar sits directly below this dramatic, angular mezzanine. This interior canopy creates a comfortable, protected atmosphere when seated in the bar, juxtaposed with the large, open volume of the main dining area.  Unique application of simple materials – drywall and linear LED lighting – creates a design motif for the space, meant as an abstraction of a fractured egg. This bold motif is used in a prominent sculptural ceiling, adding to the excitement of viewing the action in the open kitchen and above which all mechanical systems for the space are concealed.  The color palette, ranging from robin's egg blue to egg yolk yellow, adds to the fun.  The cracked motif is continued in the polished concrete floor and extends to the exterior patio in the form of perforated metal panels, providing a striking entry and drawing attention to the location, in a nod to the lively and expressive signage of 20th century diners.
Zarrow Family Faculty and Graduate Center
Architect: REES
   
Photography By: Joseph Mills Photography
A modern library is defined not only by the informational resources it provides, but by technological and spacial resources as well. Lower Level 2 of the University of Oklahoma's Bizzell Memorial Library lacked both.  Broken up by walls and doors, the layout was dark and uninviting, with minimal space receiving natural light from windows. Rooms were filled with dated furniture and there was little access to technology beyond a desktop computer. Though the space was designated staff-only, it was rarely used, as most of the staff opted to work in more updated areas of the library.  The University recognized this under-utilized space as an opportunity to create a much-needed environment for faculty and graduate students, thereby encouraging interaction among their top scholars. The space needed to draw them in with comfort and style and provide the correct environments and technology for modern modes of work.  We called on our extensive workplace experience to design a space that is healthy, functional and adaptable to future needs. The floor plan has several zones of activity, purposefully designed for different modes of work. Though zoned, the space is far from cut off as glass partitions separate the spaces and a window wall looking out onto the Canyon Garden provides an abundance of natural light.
Bricktown Ballpark:  Oklahoma Fidelity Bank Club Lounge
Architect: Studio Architecture
   
Photography By: Simon Hurst Photography
In need of a facility to maximize views of the ballpark while maintaining a unique viewing experience and interaction on its own, the Lounge adopts a Baseball Modern motif to satisfy these needs.  Abstracted baseball elements such as stitching, pitch, and speed have been defined architecturally to comprehensively demonstrate this concept. This new facility provides: 1). Preservation of the industrial character of the Bricktown Ballpark. 2). An overall volume that is outwardly focused towards the baseball field. 3). 4,836 SF of sensitive attention to the unique brand that is the Oklahoma City Dodgers, i.e. an iconic glowing "Dodgers Blue" bar design.
Choctaw Nation Tribal Headquarters
Architect: FSB Architects & Engineers
   
Photography By: Simon Hurst Photography
The Choctaw Nation of Oklahoma's new state of the art headquarters complex showcases the Choctaws' achievements and heritage, consolidates tribal services for its more than 80,000 members into one convenient, easily accessible location, and provides a home for approximately 900 employees. The interior design of the headquarters building alludes to the tribe's rich history by utilizing various design elements pulled from nature and the tribe's culture in thoughtful and meaningful ways. The five-story building features two office wings, designed to be adaptable and expandable with movable walls for maximum flexibility, connected to a central core. Visitors entering through the front doors step into the light and welcoming two story main lobby, which features golden wood tones, floor-to-ceiling windows, a ceiling-mounted Choctaw Nation seal and a water feature representing the tribe's historical journeys. The facility also features cultural displays throughout that tell the tribe's story. Cultural and natural symbols can be seen everywhere, including the leaning and standing poles, diamond design, sun symbol, coiled snake symbol, river cane, feathers, wood and fire. In addition, the cross in the circle symbol features prominently in the lobby and the multi-tonal accents around the ceiling-mounted seal are reminiscent of shells.
Barrios Fine Mexican Dishes
Architect: Gardner Architects
   
Photography By: Tim Hursley
As a rehabilitated former tire shop, Barrios defines itself as a truly unique and aesthetically pleasing culinary atmosphere. The comprehensive vision shared by the ownership and design teams was to create a clean, bright, and airy restaurant like no other in the area. Relying heavily on stark finishes provides a backdrop for unexpected expressions of warmth and vibrancy. Bold geometric patterns and colors throughout represent the Okie-Cali-Tex-Mex source of inspiration that influenced the design of the space and the flavors of the menu. Barrios Fine Mexican Dishes utilizes unique textures and materials to define different programmatic zones of the project while emphasizing the juxtaposition of the new and the old, the raw and the refined. In an interior landscape of contrasting associations, lively greenery compliments raw concrete while playful textiles energize otherwise austere surfaces. In respecting its history, the existing conditions of the space provided a reference point for interior finishes and details. Existing elements were revived in the form of painted steel structural members and refinished concrete floors. Tire racks found on site were dismantled and the wooden planks were given new life as a feature wall in the main dining room. Introduced materials and features include fabricated metal finishes, concrete planters, distinct millwork, handmade ceramic tile, and locally-crafted light fixtures. Along with thoughtful details in every space, the successful combination of tactile and visual qualities creates a refreshingly inimitable dining environment.
323
Architect: Gardner Architects
   
Photography By: Stout Multimedia
As an automotive garage, 323 formed part of the Swanson's Tire complex. In 2017, the 2,000 sf four-bay garage was reconfigured as the new home for a local design firm. The largely uninterrupted space transitioned well into an open office layout. An existing wall that dissected the eastern portion of the garage provides an appropriate barrier between the open studio and the professional support area that contains a conference room, workroom, and restrooms. The origin of the structure is celebrated by new large format windows that emulate the overhead garage doors that existed previously. Wall finishes of the existing building were left intact on the interiors: vibrant colors and raw textures that contribute to a unique environment.  The existing masonry and concrete block construction was left intact inside and out. A new steel portal was added at the entry to provide cover and screening for rain and wind. As an architectural expression, a new white object was built in the center of the office to house the reception area and a private office. An oversized sliding door allows for private or open working options for the firm's principal. Custom millwork designed by the architect makes up workstations, desks, tables, and workroom cabinets. Wood from a 150-year-old barn was included as work tables with rails in place of legs. The two tables can be separated for independent work or combined as a second meeting or breakout space. This illustrates the firm's need to maximize the space in this exercise in efficiency.
M.A.P. Room
Architect: hoffnerdesignstudio
   
Photography By: Joseph Mills Photography
The M.A.P. ROOM is a shared meeting space in a recently renovated historic building. The building is best known for reasons not related to its original purpose, and was originally a Masonic Temple. This interior renovation project evokes the aura of a secret space through the use of rich neutral colors, unexplained artifacts and a palette of rugged materials. Additionally, the project aspires to reconnect the building to another one of its histories.
Tom Love Innovation Hub
Architect: The McKinney Partnership
   
Photography By: Theresa Bragg
Hub is defined as a center of activity or a focal point; a center around which other things radiate from. This cutting-edge facility of over 20,000 SF fosters innovation and brings new ideas to life, offering multiple spaces to be utilized by anyone with a desire to develop their ideas. In the digital FabLab, ideas are brought to tangible reality through 3D printers, laser cutters, CNC milling machines, and woodshop tools. The Data Visualization space employs virtual reality to immerse users in new worlds. The Collaborative Space has flexible and reconfigurable meeting zones for student projects and work sessions. A technology-enhanced Active Learning Classroom is also available, as well as the iHub Café, outdoor seating area, and fitness center.  All of these spaces are enclosed in an open, free flowing space, where the edges of functional areas are blurred in an effort to support chance meetings and the philosophy of collaboration.  The Tom Love Innovation Hub targets creative refinement and where ideas can be brought to life through the support of technology and initiatives. A true "hub" of thought, ideas, work, and making has been created.
Scottie's Deli
Architect: Inter-Projects Architecture, PLLC
   
Photography By: James Matherly
Scottie's Deli is located on the ground floor of the Tower Theater building, a 1930's theater located along the original part of Route 66. Also in the 1930's delis were at their height of popularity in the US. The project owner had a few photos of old delis and his grandmother's recipes as a source of inspiration to him in becoming a restaurateur. We wondered how we could use this history of imagery, the site and the tradition of American delis to create a building material. Apart from the iconic food served at delis, delis also have iconic signage. We gathered thousands of photographs of deli signs, all posted to social media by people across the United States. The photographs were taken across decades and in various places in the US. We developed a workflow across multiple software using various algorithms, such as a packing algorithm. The workflow allowed us to collect the images, resize the images to fit a specific shape and then to organize them across the ceiling at different depths. This interlocking system of imagery, referencing the frames of motion pictures, references the site context and places visitors within the history of delis in the United States.
Sidecar Barley and Wine Bar
Architect: Fitzsimmons Architecture
   
Photography By: Joseph Mills Photography
Sidecar is a popular Midtown neighborhood bar strategically inserted into 750 square feet of an off-alley corner of the historic Pontiac building.  Although the bar has a front door, most of the year the original overhead door is open, inviting patrons to belly up to the indoor bar while creating an open-air area with seating elevated from the adjacent street.
REHCO and Midtown Renaissance Corporate Offices
Architect: Fitzsimmons Architects
   
Photography By: Joseph Mills Photography
The REHCO and Midtown Renaissance corporate offices are located on the top floor of the historic four-story Buick Building in the Automobile Alley district of Oklahoma City. From this location, they enjoy an expansive view of the downtown skyline and tastefully respect the historic nature of the surrounding area, in addition to the building itself.  Inspired by the owner's rich history in the automotive industry, the design of the office is based on a Buick Straight 8 Fireball engine, which sits in the reception area as an art installment atop one of eight illuminated "piston" tables.
Canaan
Architect: Fitzsimmons Architects
   
Photography By: Joseph Mills Photography
Canaan's 16,000 square foot office is located within the second and third floors of a historic building constructed in 1926.  The space includes exposed concrete columns, beams, floor system, and exposed brick walls.  Glass walls and interior clerestories maximize natural light deep into the space. The color palette was kept simple and clean to showcase the elements of the original structure. The new steel stair integrates with repurposed steel grating used as guardrails. Sliding clear polycarbonate doors provide privacy within individual offices.
MASTER PLANNING 
Muscogee (Creek) Nation Tribal Master Plan
Architect: FSB Architects & Engineers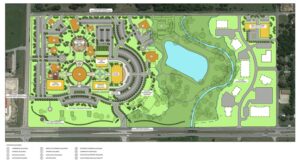 FSB created a multi-phased master plan for Oklahoma's Muscogee (Creek) Nation which will help the tribe better serve its members, draw in visitors and showcase its unique heritage and traditions. The master plan was the result of a thorough review of all tribal-owned properties in and around Okmulgee, extensive meetings and programming workshops with tribal leaders and other stakeholders, and site and facility surveys to determine the best use of the individual properties. With the initial master plan completed, FSB continues to work on developing site concepts, exploring options and creating a finalized road map to take the Muscogee (Creek) Nation forward. As part of the overall tribal master plan, site master plans were developed for the Tribal Capitol Complex, the Omniplex, an industrial site and a Cultural Center. The Tribal Capitol Complex consolidates all tribal services into a streamlined, walkable campus focused on easy navigation and improved accessibility. The existing Omniplex will be transformed into a showpiece campus that draws visitors with year-round activities and provides economic development opportunities. The Cultural Center will preserve and share the tribe's history and culture, as well as provide the Nation with an international tourist destination.
URBAN DESIGN
Legacy Park
Architect: The McKinney Partnership
   
Photography By: Ricky Barnard (image 1) and Travis Pawley (image 2)
Legacy Park was planned as the focal point for an extensive mixed use development in Norman, Oklahoma called University North Park. The McKinney Partnership Architects joined with a Howard-Fairbairn Landscape Architects to design one of the premier public amenities in Oklahoma. Surrounded by restaurants and retail development, the park serves as not only a focal point of the development, but as a premier event venue for the city. The park is centered around a tiered amphitheater for the performing arts, which is surrounded by concentric circular arcs of the various layered elements that contain the balance of the park. The stage is backed by a two acre pond, which features choreagraphed fountains and lights. A tree-lined promenade encircles the amphitheater and pond, featuring a curvilinear arbor over portions that echo the design of the stage. The park is connected to the city-wide Legacy Trail, which links all areas of Norman in a master planned walking and cycling path. Throughout the trail, historical markers and placemaking spaces have been created, with Legacy Park serving as the anchor. The project serves to bring the community together and provides a unique tranquil venue in the middle of a busy urban area.
 

HEALTHCARE
The University of Oklahoma Health Sciences Center College of Medicine
Architect: Bockus Payne Architecture
   
Photography By: Randy Alvarado
BOCKUS PAYNE ARCHITECTURE has had the distinct privilege to design the M. Dewayne Andrews Academic Office Tower which is now known as the home of The University of Oklahoma College of Medicine and is a project of The University Hospitals Authority and Trust.  Previously sprawled across a 300-acre campus at the Oklahoma Health Sciences Center in Oklahoma City, The University of Oklahoma College of Medicine lacked an identity of its own. A design competition was held to select an iconic building to serve as the "home" of the College. The design helps recruit, develop, and retain world-class faculty and students and serves as the face of the College. Included is a nine story tower, a fourth floor roof garden, parking garage and new skywalks, which connect the College of Medicine to other campus buildings. Highlighting the "front door" is an iconic crimson ribbon which is an obvious nod to The University of Oklahoma, leaving no doubt this is the Home of The University of Oklahoma College of Medicine.
Owensboro Health Multi Healthplex Prototype
Architect: Miller Architects
   
Photography By: Charles Mahlinger
With healthcare strategies ever evolving across the nation, our firm worked with Owensboro Health to embarked on a $67.5 million Healthplex program to re-imagine their ambulatory network program. This consisted of three identical, 42,000 square foot, outpatient centers in three separate markets throughout western Kentucky. All three facilities were simultaneously designed, constructed, and opened their doors to  patients within a period of thirty months. The buildings were designed based on a modular concept that could be easily adaptable by new providers and service lines. Standardizing the facilities around common concepts, the client was able to accelerate speed-to-market and consolidate disparate operations while realizing economies of scale and has to date exceeded target expectations. The facilities enable the hospital to provide exceptional healthcare outside the reach of their main hospital campus. In turn, each Healthplex offers primary care, new job opportunities, and possible further expansion within its respective community. Built with efficiency, these three hospitals were designed using Integrated Project Delivery (IPD) and produced 5 million dollars' worth of cost savings by standardizing construction documents, realizing group buying opportunities, and optimizing resources and best practices from one building to the next.
SSM Health St. Anthony's Healthplex North
Architect: Miller Architects
   
Photography By: David Cobb
The North Healthplex is the fourth and final Freestanding Emergency Department designed and built over a 5-year span as a strategic expansion of St Anthony Hospital – now known as SSM. The expansion provided an opportunity to rethink procedures as well as update the hospital's historic brick architecture to a modern aesthetic. Uncomfortable waiting rooms and long wait times for ER care were a driving factor in the collaborative process between SSM and the architect to revamp ER procedures. By moving all procedures, from registration through check out, into Exam rooms and cross-training staff to manage all aspects of the patients' visit in the ER, patients are treated faster, with fewer errors, and with a smaller staff than a traditional ER leaving waiting rooms virtually unused. In addition to 12 Emergency Exam Rooms and a Trauma Room, the 98,000 SF Healthplex is efficiently designed for easy access to Diagnostic Laboratory, CT Scan and Digital X-Ray for both the ER and Outpatient Services. The final key services consist of the Women's Center – for Mammography, Bone Density and Ultrasound – and an MRI Suite. Separate entrances for the Women's Center and MRI Suite allow for stronger branding and easy access to both.
Coletta Building at Mercy Hospital
Architect: REES
   
Photography By: Joseph Mills Photography
The Coletta Building is a 142,000-square-foot cancer center, including a 42,000-square-foot third floor to accommodate future growth. It is the first facility in the Oklahoma City metro area to combine all cancer and breast services under one roof.  The team began by gathering feedback from hundreds of cancer survivors, cancer patients and family members who lost loved ones to cancer. Our goal was to best meet the needs of cancer patients, so we listened to what worked, what didn't, what elements they wish they had access to and where they thought the new facility should be located.  The final design features two separate entries for cancer and breast services with easy access to the main hospital. This way, patients with weakened immune systems are protected while they complete treatments. The infusion area provides treatment options ranging from private rooms to social "living room" spaces to an outdoor terrace, placing patient comfort and choice as a top priority.  A Boutique offers massage therapy services and access to certified garment fitters for lymphedema sleeves and other compression garments. The Boutique also houses a specialty pharmacy for over-the-counter and prescription medications, surgical and radiation dressing supplies and skin or scar creams.
Women's Healthcare Plaza
Architect: The McKinney Partnership
   
Photography By: Theresa Bragg
The 38,000 square-foot Women's Healthcare Plaza is the newest addition to the Norman Healthplex Campus and provides a full spectrum of women's services. The two-story structure compliments its neighbors while maintaining a unique aesthetic of its own. Natural yet contemporary, the exterior features light colored native ledge stone, metal wood-look rain screen elements, blue tinted glass, and a sheltering vaulted canopy of segmented suspended curvilinear glass. The interior is inviting and creates a welcoming environment for patients. Full height stone veneer wraps from the exterior into the lobby and draws users into the monumental staircase. The open stair and full height glazing connect the lobby spaces on both levels which are bathed in sunlight and provide relaxing open views to the exterior gardens. Other finishes such as three-dimensional tree silhouettes, a warm woof lattice ceiling and textured large-scale porcelain tile add to the desired spa-like aesthetics in order to create a more relaxing patient experience. The building form is derived from the interior organization of spaces including a series of symmetrical physician "pods" that afford each practitioner and their patients dedicated views to the exterior.
---
---